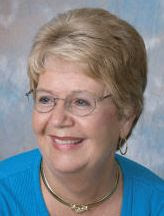 Esther Bird
We have started our planning for an all day workshop called "Jewels of Business". Members who have agreed to serve on this committee are: Morina Chmielak, Sue Hogrefe, Karen Helmick, Cyndi Fredricks, and our newest member, Jennifer Mechling. I will be the committee chair. If any other members would like to help, call me (315-440-6814) and we will certainly welcome your assistance.
We are currently collecting opinions via a survey of potential topics for the event. Via email we have asked all members to complete the survey and to either email the response to me (This email address is being protected from spambots. You need JavaScript enabled to view it.) or bring it to the March 17 dinner meeting.
Once we determine the most popular topics, we will begin searching for speakers. Whenever possible, we will use our members to do the presentations. The event will run from 8:30 am with registration and breakfast served, followed in the morning with three presentations, lunch will be served and the afternoon will also be filled with three interesting presentations.
Once the location and date are determined we will be informing members and asking that each member plan to attend, consider sponsoring the event, donate items for raffle held during the event, and invite other women to attend.
In December of 2018 we did a similar workshop called "Hats Off to Women". We profited approximately $1600 from that event. This allowed us to provide one additional scholarship in 2019 for a total of four. We are hoping to exceed that amount and possibly increase the number of scholarship recipients to five. All proceeds will go into our scholarship fund.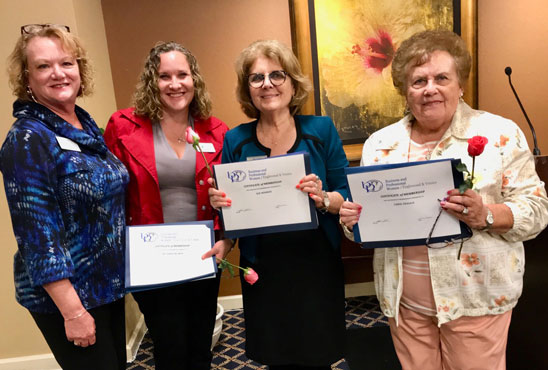 Debra Shaw - 2nd BPWEV Vice President, Dr. Karen Helmick, Sue Hofgrefe, Carol DeGulis - new BPWEV Members
Three new members, Dr. Karen Helmick, Sue Hofgrefe and Carol DeGulis are new members of the Business and Professional Women/Englewood and Venice (BPWEV).
They were inducted into the organization at the January 21, 2020 dinner meeting by 2nd Vice President Debra Straw in a traditional ceremony and received a warm welcome by the membership.
BPWEV meets every third Tuesday of each month at the Plantation Golf and Country Club. The mission of BPWEV is: "To achieve equity for all women through 'Advocacy, Education and Information". BPW/USA celebrated its 100th anniversary last year, This organization believes strongly in "Women Helping Women". BPWEV offers Adult Learner Scholarships to women who are returning to college or vocational schools to achieve higher education in order to provide better for their families. All BPWEV meetings are open to the public and guests are always welcome. For more information go to: www.bpwev.org
Syd Gibson, President
Heart Disease is the Number 1 cause of death in both men and women. A few suggestions to help lower your risk of heart disease can begin with watching your weight. Now, I do not mean getting on the scale and looking at your weight, saying something profound like, "Oh, really" and grabbing a bag of chips . Perhaps it would be better said to keep a healthy weight with a concerted effort to consume nutritional foods at every meal and eating popcorn seasoned with Rosemary instead of salt and drinking perhaps a glass of iced tea without sugar.
Do not smoke and stay away from secondhand smoke which can be just as bad for your health.
Control your cholesterol and your blood pressure by eating baked or broiled foods and avoiding trans fats. Eating raw vegetables on a salad with salad dressing such as oil and vinegar or consuming fresh fruits such as apples and bananas or berries which contain natural sugars or satisfy your sweet tooth or we have also been informed that dark chocolate is heart healthy when consumed in moderation.
If you drink alcohol, please drink in moderation. We need to keep in mind that red wine is on the list of foods that are heart healthy not totally depriving ourselves and only consuming water and a crust of whole grain bread.
Get active and stay active for a heart healthy February. Walk around the block or to the beach for a beautiful sunset 20 minutes a day. Getting outside and enjoying our lovely Florida weather walking, bicycling, playing tennis or running a marathon is a natural way to keep fit and stay healthy.
Karin Drury
Thank you to all our members and guests who attended the October and November BPWEV meetings. Your generosity provided me with $380.00 to buy clothes, shoes and one desired toy for three boys, ages 13, 8, and 4. Amazon helped me find the toys on line, the rest of the money was spent locally at TJ Max, Target, Bealls Outlet and Walmart.
The bags were delivered to the Salvation Army in Venice on 11/21/19. I send my gratitude and appreciation to all who helped make WHW a success again this year. Three boys will have an amazing Christmas thanks to you!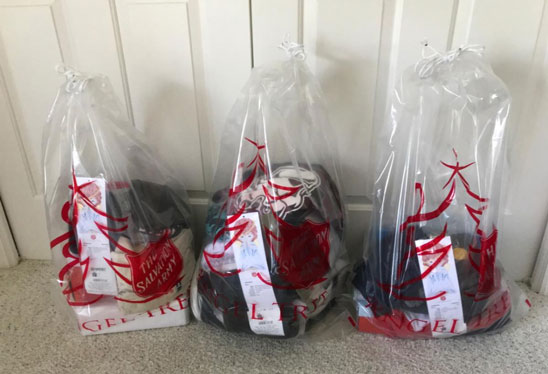 Syd Gibson, President
We welcome in the new decade of 2020 with exciting events in the upcoming months beginning in February with American Heart Month. Traditionally, February is the month for lovers and all things heart related. February 1st is National Wear Red Day to bring awareness about heart disease. Heart disease is often associated with men, but cardiovascular disease if the number one killer of women.
On March 8th we celebrate women's achievements throughout history internationally. In past years, our Local Organization has dedicated part of the March program to present a brief biography of one's favorite woman in history and even dress as they did to bring awareness of their accomplishments. March 31st is known as Equal Pay Day for 2020 which means women must work until that day to earn the same amount of money that men received in 2019. Last year, Equal Pay Day was April 2nd. Hopefully, in the near future, we will be able to have true equality in the workplace.
In June, BPW will hold it's annual State Conference to be held in Wesley Chapel at the Saddlebrook Resort which is about 90 miles North of us. Continuation of BPW's One Hundred Year Celebration will occur in addition to election of new Officers, seminars, business meetings and an excellent time to meet and greet other Beautiful Professional Women living in other parts of Florida. You may want to come before the conference begins on June 11th or stay after the 14th at the discounted hotel rates.