Women Helping Women Dec 2018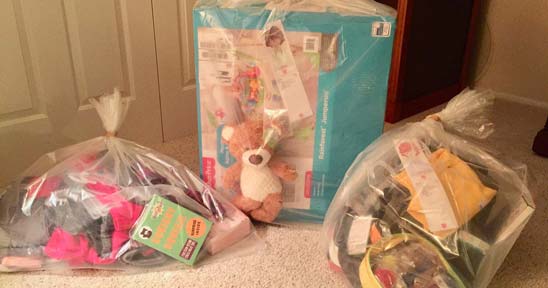 The generosity of our membership is amazing! At the November meeting you all opened your hearts and wallets and donated enough money to purchase all the shoes and clothing desired by the single moms for their children. Three children had their wish for a favorite toy fulfilled. Amazon Prime delivered them to our home in two days. All clothes and shoes were purchased at Walmart who honored out 501(c)(3) status and didn't charge state sales tax.
On November 29,2018 I delivered the gift bags to the Salvation Army who will give them to the three families in time for Christmas. A $100.00 check will also be presented to the Englewood Helping Hands to purchase necessities for the food bank.
Thank you BPWEV members for another successful Women Helping Women project and your generosity.
Merry Christmas, Happy Hanukah and Blessed Holidays to all of you.
December 2018 President's Message - The Benefits of Giving
The benefits of giving are not just for those who receive, but those who give have better health, are happier and extend this feeling to their community surrounding them. Giving can be in the form of gifts, but also includes donating to charities or volunteering your time because it makes you feel happy. Scientists believe endorphins are released in the brain resulting in feelings of happiness.
Giving can also improve your physical health and extend your longevity because it relieves stress and lowers blood pressure, suggesting a direct physiological benefit to the giver. Giving elicits feelings of gratitude whether your are the giver or the receiver. You will exercise more, be more optimistic and generally feel better about yourself.
Hats Off Workshop Wrap Up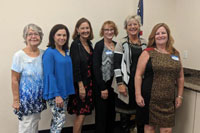 Speakers at Hats Off to Women Workshop l to r: Esther Bird, Committee chairman; Dorothy Korszen; Mk Mueller; Cyndi Fredricks; Kairee Haley; Kathleen Houseweart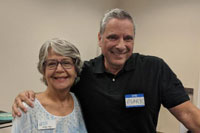 Committee Chair, Esther Bird and speaker Mark Rizzo
November Speaker and Picture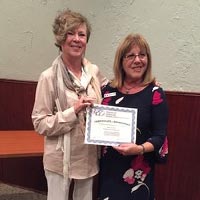 Longtime Business and Professional Women of Englewood (BPWEV) member, Kathy Castellano, spoke from her heart as she educated the members and guests about a disease commonly called "Wobbly Feet Syndrome". Her grandson, Connor, was diagnosed with Ataxia Telangiectasia at about age 3. Since that time the Dzembo and Castellano families have worked endlessly to help fund research for this rare disease. Many fundraisers, supported by local communities, have helped fund encouraging research at several universities. Clinical trials were approved and Conner, 12 years old now, was selected as one of the patients.