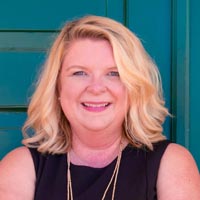 Kara Morgan is the CEO of Venice MainStreet. She uses dynamic community connections and high-level strategic oversight, plus over 15 years of experience in nonprofit management and development to tackled large projects, such as capital growth campaigns and federal grants to navigating everyday challenges, like building awareness and visitor engagement.

Kara is originally from Wisconsin. She became a Venice resident in 2015 and has lived in Sarasota County since 2007. She holds Bachelor of Arts degrees in Education and Youth Studies, and Art History, from Beloit College and a Master of Arts degree from John Hopkins University. Locally, she most recently served as Director of Development of Art Center Sarasota and previously Deputy Director of Historic Spanish Point for seven years.

In her role for Venice Kara finds, "MainStreet is an asset to residents and visitors of historic downtown Venice. It offers collaborations and connections for business, cultural organizations, local government, and individuals."
Morgan resides in Venice with her husband and son. She enjoys cooking for family and friends utilizing ingredients from the local farmers market, visiting museums as an avid history lover, and spending time outdoors at the beach or in the beautiful parks.
---
BPWEV meets every third Tuesday of each month at the Plantation Golf and Country Club. The public is invited to all meetings. Dinner is $23.00 and reservations are necessary. For more information go to: www.bpwev.org
The mission of BPWEV is: To achieve equity for all women through Advocacy, Education and Information. BPW celebrated its 100th birthday in 2019. The organization strongly believes in "Women Helping Women".