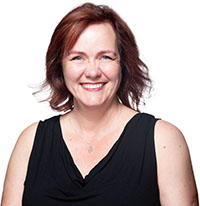 Kathleen Callahan moved to Englewood with her family to provide a better environment to grow up in. Englewood offered that small-town family culture and business opportunities to support that choice. An excellent opportunity to own a local shop became available, and Kathleen and her husband took that chance and became shop owners. Many years followed, and the dream grew more and more. Fast forward 7 years, Kathleen became 100% owner of the repair shop, to provide for her family and turned a necessity into a passion for success. That foundation gave her the time and financial support to be a mom and provide in a way that other jobs could not. Where most shop owners see their business as a profit center, Kathleen's passion for Xpertech is more about relationships than the dollars. Relationships wifamith the customers, the community, employees, and family.
She appreciates that the industry facilitates her passion for helping people become better versions of themselves and succeed in whatever that means for them. In 2015, she became an ASE Certified Service Consultant and joined Repair Shop of Tomorrow as a coach in 2021. She led the Leadership Englewood class of 2021 as chair, and served as Englewood Chamber of Commerce Board President in 2022.
Kathleen's numbers prove the success of her approach. From the start, she has led Xpertech to a consistent year-on-year growth average of 5 percent. Now she's delivering 16 to 18 percent net profit, well within the target range of 15 to 18 percent set as a national standard. Over the past five years, gross sales have doubled with March 2021 marking her best month ever, up 47 percent over 2020, and 24 percent over 2019.
It's just one more example of Kathleen's investment in the success and that big dreams don't work unless you work for them.