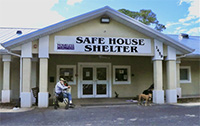 The Charlotte County Homeless Coalition, Inc. is a 501©(3) not-for-profit organization incorporated in June 1989 and is the largest provider of food and homeless prevention services in Charlotte County. The organization is the only official Emergency Shelter in the surrounding five counties with a capacity of approximately to 62 residents.
The Emergency Shelter provides immediate housing and safety for individuals and children, generally for up to 30 days, allowing our Case Managers to assist with finding stable, affordable housing. The Emergency Shelter has 20 beds reserved for homeless Veterans, referred to us from neighboring counties. Since 2015, the Homeless Coalition has provided Emergency Shelter to more than 500 Veterans.
The Hunger Prevention Programs include a Hot Meals Program, open 365 days per year, serving a nutritious breakfast, lunch, dinner, and snacks to more than 180 people every day. The Food Pantry is open Monday mornings and Wednesday afternoons, providing a three-day supply of food to families in need. The Bridges Out of Poverty curriculum offers classes and group training to equip clients with the knowledge and tools needed to help them move out of poverty and make responsible financial decisions that will help ensure they stay housed following services.
Most recently, The Homeless Coalition moved and expanded their resale shop, 'Fabulous Finds' where it is heavily supported by volunteers. Thousands of families are still in need of affordable clothing and furniture in the community, and they now have a place to go. Fabulous Finds helps further the mission of the Coalition, to prevent and alleviate hunger and homelessness, by taking a more holistic approach to the obstacles faced by their clients. This means offering job training, professional wardrobe for interviews, and furniture for a new cozy home.
The Homeless Coalition takes pride in the work they do and the collaboration within the community. All the volunteers, organizations and partnerships make it possible for The Homeless Coalition to function. With these continuous efforts, the numbers of homelessness in Charlotte County have drastically decreased. Everyone in the community coming together makes it possible.
I look forward to meeting you all, and talking more about what it is we do and how integral your support is in helping the most vulnerable of our community.