Joy's Jewelry Making Class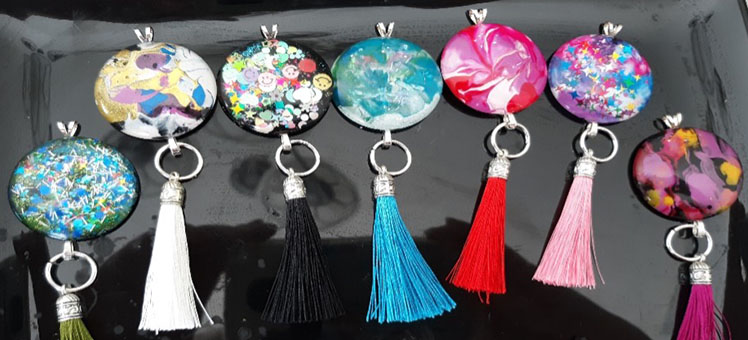 Special Event for BPWEV Members and Their Guests
SATURDAY, OCTOBER 1, 2022; 1:00 – 4:00 PM
LEMON BAY SOAP COMPANY
2411 SOUTH MCCALL RD, ENGLEWOOD
COST: $20.00
Bring your friends and enjoy an afternoon of jewelry making. Stop by at your convenience, enjoy a beverage and refreshments while you create your own beautiful necklace. Registration is required and must be made by September 25.
If you have any questions, call Teresa at 941-740-2443.
Barbara Proctor (Speaker, Author, Executive Coach) - Speaker on August 16, 2022
Barbara Proctor has more than 20 years experience in telecommunications. Barbara was promoted from bookkeeper to Regional VP in less than 45 months and increased her income more than 400%. She achieved this while raising three children, graduating from college while building her career.
In addition to her professional accomplishments, Barbara has facilitated monthly Lean In Circles for employees of T-Mobile and MetroPCS in the Carolinas and Georgia on topics important to women in their lives and careers. She has participated in mentorship programs as both a mentee and a mentor and created mentorship programs for small businesses to assist with succession planning.
Barbara is passionate about mentoring women to help them go further faster in their careers or businesses and achieve their dream lives!
Barbara is the creator of "The Successful Career Blueprint" and is dedicated to advancing women in their careers.
Speaking Topic: You CAN Get There: 3 Secrets To Advancing Your Career
Women tend to wait for their company to tap them on the shoulder and promote them. Learn how to determine your unique value proposition and be front and center for achieving the promotion you deserve.
Wine Tasting Event - 12th Annual Passport to Your Future
BPWEV will be offering many different finger food items supplied by local restaurants as well as auction items and 50/50. The ticket price is $35.00/person in advance, $40.00 at the door. Tickets include wine tasting, delicious food, and the opportunity to purchase tickets for a chance to win beautiful gift baskets. Chance tickets can also be purchased in advance.
The Annual Wine Tasting is to promote BPWEV and benefit the BPWEV Scholarship Fund.
BPWEV is a 501(c)(3) non profit organization committed to enriching the lives of women though opportunities for individual development and growth. Sponsorships by local businesses/organizations of the event is encouraged. It will bring visibility and recognition to the business supporting this event.
For more information, please contact Cyndi (941-228-6883) or Debbie (941-661-6848).
BPWEV is a 501(c)(3) Tax Deductible Non-Profit Corporation, Florida Solicitation License #CH30762. A COPY OF THE OFFICIAL REGISTRATION AND FINANCIAL INFORMATION MAY BE OBTAINED FROM THE DIVISION OF CONSUMER SERVICES BY CALLING TOLL-FREE WITHIN THE STATE. REGISTRATION DOES NOT IMPLY ENDORSEMENT, APPROVAL, OR RECOMMENDATION BY THE STATE. Division of Consumer Services may be reached at 1-800-HELP-FLA or www.FloridaConsumerHelp.com
August 2022 - President's Report
By Esther Bird
Greeting to all my BPWEV Sisters. My hope is that each of you is enjoying good health and happiness. I wish to share some information that was in today's news that I find shocking and I feel everyone should be aware.
On July 23, 2022 there was a gathering of approximately 5,000 young adults in Tampa Florida. The event was the Turning Point USA Student Action Summit. One person who spoke made some very outrageous statements that I will share with you in this article. His statement indicated that the only women who are fighting for the right to have an abortion are so ugly they wouldn't have to worry because no man would touch them. Another statement indicated that only the women who are 5'2" and 350 pounds care about this issue.
That's a small sample of his comments. This man is Matt Gaetz, who serves in Congress and represents the District 1 in the state of Florida.
BPW is not a political organization; however, we believe in equal rights for women. How can women ever be seen as equal when people in power think and say things like this? That is a question I do not have an answer to. This man is misogynistic and represents you in Congress. He is currently running for reelection and expects to win.
It certainly is not my place to tell you how you should feel about this or what you should do, but I did want to make you aware. Equal rights are important, but have not been obtained. Will women ever reach the point of equality? I certainly hope so because we deserve it in every way.
Women's Rights - Changes in the News This Week
By Esther Bird
As the news from yesterday, June 22, 2022, the United States Supreme Court has ruled to throw out Roe v. Wade. The right for women to make decisions regarding their healthcare is changing and affecting the rights of women around our country. Whether you agree with this decision or not, I wanted to address the issue in this venue.
Our organization believes in equal rights for all people, with a strong focus on women. Personally, I've lived long enough to know what the situation was like for women prior to the 1973 decision. With Roe v. Wade in 1973, personal friends of mine have had to make this difficult decision and their actions were both legal and safe. This is now changed. It's done.
So what happens next?
Supreme Court Justice Clarence Thomas on Friday said landmark high court rulings that established gay rights and contraception rights should be reconsidered now that the federal right to abortion has been revoked.
The cases he mentioned are Griswold vs. Connecticut, the 1965 ruling in which the Supreme Court said married couples have the right to obtain contraceptives; Lawrence v. Texas, which in 2003 established the right to engage in private sexual acts; and the 2015 ruling in Obergefell v. Hodges, which said there is a right to same-sex marriage.
Thomas' recommendation to reconsider that trio of decisions does not have the force of legal precedent, nor does it compel his colleagues on the Supreme Court to take the action he suggested.
But it is an implicit invitation to conservative lawmakers in individual states to pass legislation that might run afoul of the Supreme Court's past decisions, with an eye toward having that court potentially reverse those rulings.