Beth "Annie" Stockdale - Speakers on March 17, 2020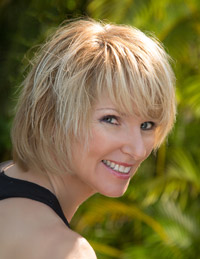 After spending over 10 years as a Federal and State Prosecutor, Beth "Annie" Stockdale changed her focus to health and wellness education. Her mantra is, "It's hard to have a clear thought with a toxic body." She created Your Total Body LLC in 2012 to focus on customized personal training; however, the company quickly began transforming into a total wellness community. We all are getting older, but the rate at which we "Age" is up to us!
Visit her "Your Total Body Wellness Center" in Venice to experience respiratory relief in her Salt Room, reduce inflammation and pain using her Infrared Sauna or Joovv Light system, or release unwanted body fat using her iLipo Body Fat reduction system. Increase circulation and balance using Whole Body Vibration.
Annie is currently thriving as a nationally-recognized Brain Health Coach and Consultant with the Amen Clinics. She is a Speaker and Writer on important aging and cognitive health topics. You can see her out in the community educating on conditions such as Stress, ADD, Anxiety, Depression, Alzheimer's, Parkinson's or Dementia. She customizes cognitive protocols addressing these conditions, and empowers you to optimize your natural hormones and neurotransmitters to achieve total health for Your Total Body. The Wellness Center is located at 800 East Venice Ave., Ste. C, Venice, FL 34285. And you can reach Annie by calling/texting to (941) 468-7091, or at www.yourtotalbody.co.
---
BPWEV meets every third Tuesday of each month at the Plantation Golf and Country Club. The public is invited to all meetings. Dinner is $23.00 and reservations are necessary. For more information go to: www.bpwev.org
The mission of BPWEV is: To achieve equity for all women through Advocacy, Education and Information. BPW celebrated its 100th birthday in 2019. The organization strongly believes in "Women Helping Women".
BPWEV Golf Tournament - Saturday, April 25, 2020
Course: Plantation Golf & Country Club - Bobcat Course
4 Player Scramble with a Shotgun Start
Cost:
$115 Single Player Sign Up (includes all fees & buffet lunch)
$400 When Signing Up As A Foursome (includes all fees & buffet lunch)
$30 Non Golfers (lunch only)
Time:
Registration 7:15AM - Plays start at 8:30AM
Prizes:
Hole 3 - Closest to the Pin (Men and Women)
Hole 15 - Closest to the Pin (Men and Women)
Sponsorship Opportunities:
Have your business name listed and displayed on signs at tee or greens.
Green Sponsors $100
Tee Sponsors $75
Business In-Kind Sponsors (Any Amount or Goods Provided)
The Business and Professional Women of Englewood and Venice is a local 501(c)(3) non-profit organization whose mission is to help empower women and the people they care about through education and advocacy.
Every year, the members of BPW/EV provide scholarships to deserving adult women wishing to return to school. Our members are committed to enriching the lives of local women by providing a financial opportunity to advance their employment opportunities for individual development and growth.
BPWEV will be holding a golf tournament fundraising event on Saturday, April 25, 2020 beginning at 8:30am at Plantation Golf & Country Club, 500 Rockley Blvd., Venice, FL. This is the perfect opportunity for your business/organization to show your commitment to the professional development of women at large by becoming involved as a sponsor of this event. There are opportunities described on the attached flier. Your sponsorship will bring visibility to your business/organization as you will be recognized throughout the event.
We hope you will support our efforts by sponsoring this event. Checks should be made payable to BPWEV and mailed to Morina Chmielak, 4382 Via Del Villetti Dr. Venice, FL 34293 and must be received no later than April 4, 2020. For more information and question, you may call Morina at (941) 497-1133.
2020 BPW Adult Learner Scholarships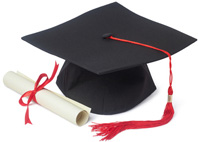 Adult Learner Scholarship Available for Women Residing in Sarasota or Charlotte County
The Business and Professional Women of Englewood and Venice (BPWEV) are offering Adult Learner Scholarships in the amount of $1,000.00 each! Female applicants should be from the Englewood/Venice area, residing either in Sarasota or Charlotte County. Adult Lerners are those women pursuing advanced education or retraining in college or vocational schools. BPWEV scholarship applications and instructions and contact information are accessible online at www.bpwev.org.
BPWEV also is engaged in the national program "Joining Forces with Women Veterans and Military Spouses". The program provides resources and online connections to the veterans and military wives to assist in their successfully obtaining meaningful employment and a career of their interest. BPWEV encourages Women Veterans and Military Spouses to apply.
The deadline for mailing applications is APRIL 30, 2020
3 New BPWEV Members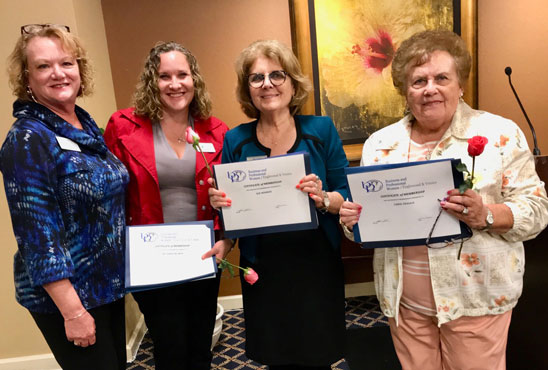 Debra Shaw - 2nd BPWEV Vice President, Dr. Karen Helmick, Sue Hofgrefe, Carol DeGulis - new BPWEV Members
Three new members, Dr. Karen Helmick, Sue Hofgrefe and Carol DeGulis are new members of the Business and Professional Women/Englewood and Venice (BPWEV).
They were inducted into the organization at the January 21, 2020 dinner meeting by 2nd Vice President Debra Straw in a traditional ceremony and received a warm welcome by the membership.
BPWEV meets every third Tuesday of each month at the Plantation Golf and Country Club. The mission of BPWEV is: "To achieve equity for all women through 'Advocacy, Education and Information". BPW/USA celebrated its 100th anniversary last year, This organization believes strongly in "Women Helping Women". BPWEV offers Adult Learner Scholarships to women who are returning to college or vocational schools to achieve higher education in order to provide better for their families. All BPWEV meetings are open to the public and guests are always welcome. For more information go to: www.bpwev.org
February is American Heart Month
Syd Gibson, President
Heart Disease is the Number 1 cause of death in both men and women. A few suggestions to help lower your risk of heart disease can begin with watching your weight. Now, I do not mean getting on the scale and looking at your weight, saying something profound like, "Oh, really" and grabbing a bag of chips . Perhaps it would be better said to keep a healthy weight with a concerted effort to consume nutritional foods at every meal and eating popcorn seasoned with Rosemary instead of salt and drinking perhaps a glass of iced tea without sugar.
Do not smoke and stay away from secondhand smoke which can be just as bad for your health.
Control your cholesterol and your blood pressure by eating baked or broiled foods and avoiding trans fats. Eating raw vegetables on a salad with salad dressing such as oil and vinegar or consuming fresh fruits such as apples and bananas or berries which contain natural sugars or satisfy your sweet tooth or we have also been informed that dark chocolate is heart healthy when consumed in moderation.
If you drink alcohol, please drink in moderation. We need to keep in mind that red wine is on the list of foods that are heart healthy not totally depriving ourselves and only consuming water and a crust of whole grain bread.
Get active and stay active for a heart healthy February. Walk around the block or to the beach for a beautiful sunset 20 minutes a day. Getting outside and enjoying our lovely Florida weather walking, bicycling, playing tennis or running a marathon is a natural way to keep fit and stay healthy.
Women's Rights in the U.S.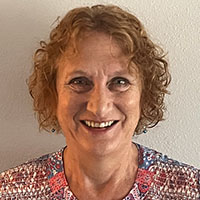 Cynthia Fredricks, Public Policy Chair
Women's rights in the U.S. have made leaps and bounds since the passage of the 19th Amendment. Yet many women still struggle to break the glass ceiling because of unequal treatment in society. According to a recent study done by WalletHub.com, we still have a long way to go.
In 2018, the U.S. failed to place in the top 10 - or even the top 40 - of the World Economic Forum's ranking of 149 countries based on gender equality. In fact, the U.S. dropped to 51st position from its previous rank 49th.
The workplace provides even more evidence of the issue. Despite their advances toward social equality, women are disproportionately underrepresented in leadership positions. Women make up more than 50% of the population. According to the American Association of University Women, women only constitute 25% of legislators and less than 29% of business executives.
Apart from unequal representation in executive leadership, salary inequity has been central to the gender-gap debate. Few experts dispute an earnings gap between women and men, but there's disagreement when it comes to the proper method of measuring that disparity. The fact remains, however, that nearly two-thirds of minimum-wage workers across the country are female, according to the National Women's Law Center.
In next month's newsletter I'll share information from this study specific to where Florida ranks among the United States.