Rita Bertler - Speaker on October 17, 2023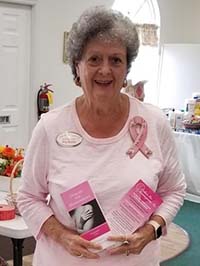 Rita Bertler, President and Founder of Dollars For Mammograms, Inc. has lived in "Paradise" for 38 years in Englewood and loves the luxury of the beautiful beaches in her area. She is very active in her community and belongs to Englewood/Cape Haze Chamber of Commerce, Boca Grande Chamber of Commerce, North Port Chamber of Commerce, Venice Chamber of Commerce, and Charlotte County Chamber of Commerce. Rita is a Beta Sigma Phi and a proud member of GFWC Rotonda West. She was a member of BPWEV for 31 years.
Rita was selected as a Maker 2014 by WGCU for making a difference in the lives of women in Southwest Florida. It was quite an honor and it was the first time someone in the Englewood area was selected by Gulf Coast University's public broadcasting station.
In 2016, Rita was honored & recognized by her community when she was selected to be Grand Marshall of the Englewood Pioneer Day Parade for her service to her community.
Before their retirement Rita and her husband, Dick, owned and operated 3 businesses in the Englewood area: Cornerstone Deli Café, Peppermill Restaurant, and Peppermill Jewelry & Gift Shop.
Rita is from Milwaukee, Wisconsin, and her retirement pension is from the grocery industry, but her favorite job was working for the Archdiocese of Milwaukee in Youth Ministry.
Rita founded Dollars For Mammograms, Inc. in May of 2000 and is always eager to share the story of this "no cost" mammogram service to women who cannot afford one. Her motivation to establish Dollars For Mammograms was driven by her desire not to have any other women feel like she did when she found she had a breast health issue, was uninsured, and did not know where to turn for the help she needed.
Rita encourages all that she meets to follow her mantra: "Let your light shine brightly!" By this, she means do not be afraid of challenges, and be true to yourself and your goals. Do not compromise your integrity or yourself, to further your career goals.
October 2023 - President's Report
In October we celebrate National Business Women's Week. National Business Women's Week® is celebrated every year during the third week of October. It provides a valuable opportunity to recognize and honor working women, and employers who support working women and their families. For nearly a century now, this celebration has helped to promote leadership roles for women and to increase opportunities for personal and professional growth. October is also National Breast Cancer Awareness month.
Our meeting is on October 17th. We will welcome as our speaker, Rita Bertler, President of Dollars for Mammograms. We will also honor our Woman of the Year voted on by all members. So as you can see it will be a busy meeting.
October Highlights in U.S. Women's History
October 3, 1904 – Mary McLeod Bethune opens her first school for African-American students in Daytona Beach, Florida
October 4, 1976 – Barbara Walters becomes the first woman co-anchor of the evening news (at ABC)
October 4, 1993 – Ruth Bader Ginsburg joins the U.S. Supreme Court as its second woman Justice
October 11, 1984 – Dr. Kathryn D. Sullivan is the first U.S. woman astronaut to "walk" in space during Challenger flight
October 15, 1948 – Dr. Frances L. Willoughby is the first woman doctor in the regular U.S. Navy
October 16, 1916 – Margaret Sanger opens the U.S.'s first birth control clinic in Brooklyn, New York
Cyndi
Wine Tasting Event - 13th Annual Passport to Your Future
BPWEV is a non profit organization committed to enriching the lives of women through opportunities for individual development and growth. Sponsorships by local businesses/organizations of the event is encouraged. It will bring visibility and recognition to the business supporting this event.
For more information, please contact Cyndi (941-228-6883) or Debbie (941-661-6848).
Public Policy Platform 2023-2024
At the BPW Florida State Conference in June, 2023, the Proposed Public Policy was presented and approved. The new Public Policy for 2023 – 2024 is below:
Introduction:
Since the inception of BPW/FL in 1919, BPW/FL has always supported women's rights. BPW/FL continues to support the ERA as a basic foundation of our Public Policy Platform, even as we understand that passing the ERA grows more difficult with the passage of time. BPW/FL firmly believes that equality of rights under the law should not be abridged or denied by the United States or by any state on account of sex, and the rights of women require constant vigilance.
Item 1: Economic Equity, Opportunity and Self-Sufficiency
BPW/FL supports public policies that:
ensure pay equity and equal employment opportunities for all women
promote opportunities for women-owned businesses
promote affordable, quality dependent care
promote Social Security and retirement reform options benefiting women
guarantee a workplace free from harassment and discrimination
Item 2: Health Care
BPW/Fl supports public policies that:
support the expansion of affordable care, including Medicaid, in Florida
support funding and initiatives the cover women's health care needs
ensure women's access to all health care and family planning needs, including full access to all forms of reproductive health services, education, and prescriptions
Item 3: Voting Right and Access
BPW/FL supports public policies that:
promote free and fair elections
are aimed at expanding voters' access to the polls
are designed to protect the right of all American citizens to vote in fairly drawn legislative districts