11th Annual Wine Tasting and Auction
Karla Blake (Medicare Specialist) - Speaker on September 17, 2019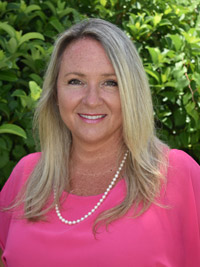 "I was working as a Domestic Executive for 20 years while raising my four children, the hardest work ever! Born in New Jersey, but growing up in Venice, I moved to Fort Lauderdale after college for 30 years. Now a single mom and sole provider, Last year I made my way back home to Venice".
As a licensed insurance agent in 12 states, Karla's main focus is on Medicare. She specializes in helping seniors gain a comprehensive understanding of the differences between Advantage Plans and Original Medicare with a Supplement. Having a strong Christian faith, she considers her work to be her "ministry."
"I love what I do, it is my passion, my job and my ministry. Making sure people understand their choices in Medicare, and providing exceptional customer service with my "call me anytime" attitude is what sets me apart. Most of my business is done through referrals, a happy client who wants to share me with their friends is absolutely the best compliment"!
Karla does the "Medicare Minute" the first Wednesday of every month at the Gardens of Venice at 10 am, and at The Towers of Venice she does "Medicare Made Simple" at 11 am. She has also talked about Medicare on local radio stations, Both WENG and WKDW. She has spoken for several Kiwanis chapters, retirement homes and businesses to explain the A,B,C & D of Medicare to her audience. An active member of the Venice Chamber, Karla was a Finalist for the Chamber's Business of the Year in 2019 and voted as one of the Venice Gondolier's Top 40 Business Professionals for 2019. With one minor child still left at home and attending her high school alma mater. Most of her community service is with the VHS Football program and Choir. She looking forward and have also signed up to participate with The Habitat for Humanity Woman's build in October!
Business and Professional Women State Conference Celebrating 100 years!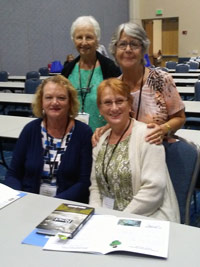 Top Row: Carol Kouba, Esther Bird
Bottom Row: Debra Straw, Cynthia Fredricks
On June 27-29 in Punta Gorda the Business and Professional Women of Florida gathered at their annual state conference to celebrate 100 years! This event was attended by six of our members: Syd Gibson, Debi Straw, Cyndi Fredricks, Carol Kouba and Morina Chmielak.
Come to the meeting on July 16 to learn about the conference and discover the secrets to our excitement. You'll hear about the motivational speakers, the hawg calling luncheon, the great awards ceremony, the installation and learn why we are personally planning to "do it again" next year.
This conference made us excited and enthusiastic about how we can proceed to make our Local Organization stronger and better. At the July 16 meeting, you will hear what makes the BPWFL conferences worth attending. CLICK HERE to Register
BPWEV 2019 Scholarship Recipients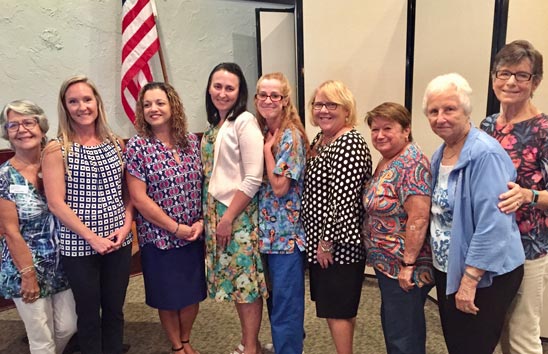 l to r: Esther Bird - Scholarship Committee, Allison Hinshaw, Christine Pomerleau, Oksana Zimin, Stacey Chaisson - Scholarship recipients, Katie Malloy, Natalie Bloom, Carol Kouba, Karin Drury, Scholarship Committee
Four lucky ladies were awarded the Business and Professional Women of Englewood and Venice (BPWEV) Christine Davis Memorial Adult Learner Scholarships in the amount of $1,000.00 each this year. They are Allison Hinshaw, Christine Pomerleau, Oksana Zimin,and Stacey Chaisson. Two are attending State College of Florida, two Florida International University. Their field of study varies from nursing, to early childhood education to school administration. Recipients have to either reside in Sarasota or Charlotte County. The BPWEV members worked hard raising the money for these scholarships through several fundraisers, the annual Wine tasting/Auction and a Hats off to Women Workshop being the most popular ones. BPWEV meet every third Tuesday of each month at the Left Coast Seafood Restaurant in Venice.
The public is invited to all meetings. The mission of BPWEV is: "To achieve equity for all women through Advocacy, Education and Information."