Important President Announcement - October 2021
by Esther Bird
Due to the recent resignation of Morina Chmielak, I am now the President of BPWEV. Morina has been an active and strong leader of our organization and she will be missed. Additionally, she would certainly be welcomed back in the future if she would like to rejoin.
Per our bylaws, the First Vice President automatically becomes the President upon resignation. As your president, I promise you that I will do the best job possible. This will be a challenge that I willingly take on. The work that we do in BPWEV makes a difference in the lives of many in our community. That is very important and will continue.
It was apparent during the state conference when our Local Organization won four awards that we are one of the best groups in the entire state of Florida. We want this to continue in the future and we can do this as a united team.
The continued support of our officers and members is vitally important as we move forward. Please give some thought to what you can do to help with this endeavor. Together we will not just survive, we will thrive!!! The key to our success is UNITY!
You are all wonderful, caring women and it will be a pleasure to serve as your President. Working side-by-side as a team, we will grow and prosper and continue the good things we do in this community.
Sheri McCandless & Sue Banks - Speakers on October 19, 2021
L-R: Sheri and Sue
Sheri McCandless currently serves as BPW/FL's President for 2021-2023. Elected as BPW/FL's President-Elect at the 2020 Annual Meeting held virtually, she became State President after the 2021 State Conference held this past June. Sheri joined BPW in 1994 and is a member of BPW/Gold Coast. She has held various offices at the local level, including LO President, as well as at the state level, having served as BPW/FL's President in 2000/2001. She also served as BPW/FL's Education Foundation President for two terms.
Personally: Sheri is a native Floridian, born and raised in Boynton Beach, Florida and resides in Loxahatchee, a rural suburb of Palm Beach County. She has been married to her one and only Hugh, for over 43 years, has one daughter and two granddaughters.
Professionally: Sheri has transitioned several careers, including 11 years in the legal field, 20+ years as a small business owner with her husband, 5 years as a Virtual /Admin Assistant for solo entrepreneurs, and currently works (for the last 6 years) as an Administrative Assistant for Meyer Jabara Hotels (a hotel management company) and The Meyer Companies (a family office).
Sue Banks currently serves as BPW/FL's Parliamentarian. Sue has served twice as BPW/FL President and has served on both elected and appointed positions too numerous to name. She became a member in 1989 when she joined BPW/Coral Gables. When she moved to Palm Beach Gardens in 1999, she transferred to the BPW/Gold Coast LO.
After earning her BBA (major in accounting) from the University of Miami, and later her MBA from Barry College (now University), she most notably worked for over 25 years in both the accounting and compensation and benefits areas for the Burger King Corporation and for the Wackenhut Corporation. Sue now provides accounting and management services to small business owners.
Beyond work, Banks graduated from Leadership South Dade, served on the advisory councils of The Professional and Business Forum and FAU Women's Studies Center, as Treasurer for both the Cancer Alliance of Hope and Help and The Florida Women's Consortium. Banks has also been a volunteer and a paid staff member for public elected officials including candidates for judicial office, the Florida House, and her local city council.
Through BPW/FL and BPW/USA, Banks helped lobby for our issues and was once told by a Florida Legislator "little lady, why would you want us to pass the ERA, we already have you on a pedestal". Comments like that fuel her passion for her continued involvement in fighting for women's issues.
---
BPWEV meets every third Tuesday of each month at the Plantation Golf and Country Club. The public is invited to all meetings. Dinner is $26 and reservations are necessary.
Honoring Carol Kouba BPW Member for 40 Years!
by Karin Drury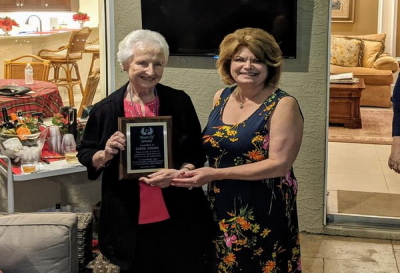 Carol Kouba-BPW Member of 40 Years with Morina Chmielak, BPWEV President
Carol Kouba, a BPW member for 40 years, has been an outstanding example of loyalty and dedication to BPW. Carol moved to Florida in 1958 from Newark, Ohio. After High School graduation she attended the University of Florida for 2 years and was employed for 8 years at Shands Teaching Hospital in Gainesville transcribing medical reports. This started her career in medical information management. She became an Accredited Record Technician in 1984, Certified Coding Specialist in 1992 and received her Bachelor of Science in 1991 from St. Leo College. Carol was the first in her family to earn a Bachelor's Degree.
After her move to Englewood in 1972, Carol worked at the Venice Hospital where a friend encouraged her to join the local BPW Club. After Venice she was employed at Fawcett Memorial Hospital and retired from Sarasota County Health Department in 2005. Carol became a member of the Gulf and Bay BPW in Venice in 1979 and later joined BPW Englewood Venice. This amazing lady held most offices in BPWEV, with the exception of treasurer. BPWEV enjoyed her guidance and leadership as president for 3 years from 1996 - 1999. When BPW clubs still had districts, Carol stepped up to the position of District Director.
Each year Carol tries to attend the conference of BPW/FL in June, held at a different venue each year. She also enjoyed attending the BPW/USA National Conference in Reno, Nevada and another one when it was held in Orlando, FL. Carol doesn't like to talk about everything that she has done for BPWEV in the past 40 years, besides being president for 3 years.
Bobbie Marquis, BPWEV president at that time, introduced the club to an electronic newsletter format about 12 years ago. Carol has been the publisher of the newsletter ever since! Just recently she is receiving help from the new member, Jennifer Mechling. The Scholarship Committee has counted on Carol for probably at least 10 - 12 years to be part of that committee. Carol was honored several years ago as BPWEV's Woman of the Year, a much deserved recognition. In 1999/2000 when BPWEV first organized the Dollar for Mammogram 501 c (3) charitable organization, Carol volunteered to be on the Board of DFM. Even though DFM is no longer a BPWEV function, Carol still helps that organization and still serves on the Board.
Carol has a brother in Venice and 2 nieces, one in Venice and one in North Port. Her hobbies include reading, traveling when possible, a visit to a casino occasionally, playing bingo and BPWEV.
You will find Carol volunteering for every major event BPWEV has planned. The members of BPWEV are very grateful to this wonderful member for all her service and dedication to advancing BPWEV's mission of " Women Helping Women" and "To achieve equity for all women through Advocacy, Education and Information!
BPWEV Scholarship Recipients Attend July Dinner Meeting
by Karin Drury
At the July 20,2021 Dinner Meeting the Business and Professional Women of Englewood and Venice (BPWEV) awarded 2 Christine Davis Memorial Adult Learner Scholarships. Bianca Vales, who is finishing her BSN degree in December of this year, received the scholarship for a second time. Pamela Leigh Schueler is seeking a BAS degree in Health Services Administration. Both students had to address the BPWEV members and talk about their goals, their families and how the scholarship is helping them to reach those goals.BPWEV meets every third Tuesday of each month at the Plantation Golf and Country Club. The public is invited to all meetings and information is available at www.bpwev.org. This organization believes in Women Helping Women. Adult Learner Scholarships are offered every year to women residing in Sarasota or Charlotte counties. BPWEV supports many local agencies who are helping families and children.

l to r: Natalie Bloom, Scholarship Committee, Pamela Leigh Schueler, Karin Drury, Scholarship Committee, Bianca Vales, Esther Bird and Carol Kouba - Scholarship Committee
Installation of New Officers 2021-2022
by Karin Drury
Warm applause by the members and guests of the Business and Professional Women of Englewood and Venice (BPWEV) welcomed the newly installed Board Members at the April 20th dinner meeting.
BPWEV meets every third Tuesday of each month at Plantation Golf and Country Club in Venice. The public is invited to all meetings. For times and more information please visit www.bpwev.org.
The mission of BPWEV is "To achieve equity for all women through Advocacy, Education and Information". This organization believes strongly in Women Helping Women, and awards each year Adult Learner Scholarships to women in Sarasota and Charlotte County.
Below in Photo: left to right- Irene Slattery Installation Chair; Morina Chmielak, President; Esther Bird, 1st Vice President; Debra Straw, 2nd Vice President; Madeline Salerno, Recording Secretary; Cynthia Fredricks, Treasurer; Carol Kouba, Member.
Follow Up to April 20th Speaker from Selah Freedom - Emily Hunt
by Karin Drury
Speaker Emily Hunt, Selah Freedom, presented a shocking program on Sex Trafficking in our Community at the April 20, 21 BPWEV dinner meeting.
She encouraged the members and guests to report any suspicious behavior that they might notice. Young girls and boys, sometimes very young, are often the victims and are unable to escape the situation that they find themselves in. Selah Freedom will help them if authorities are notified and the individuals can be brought to one of their secure locations where help, counseling and education is offered.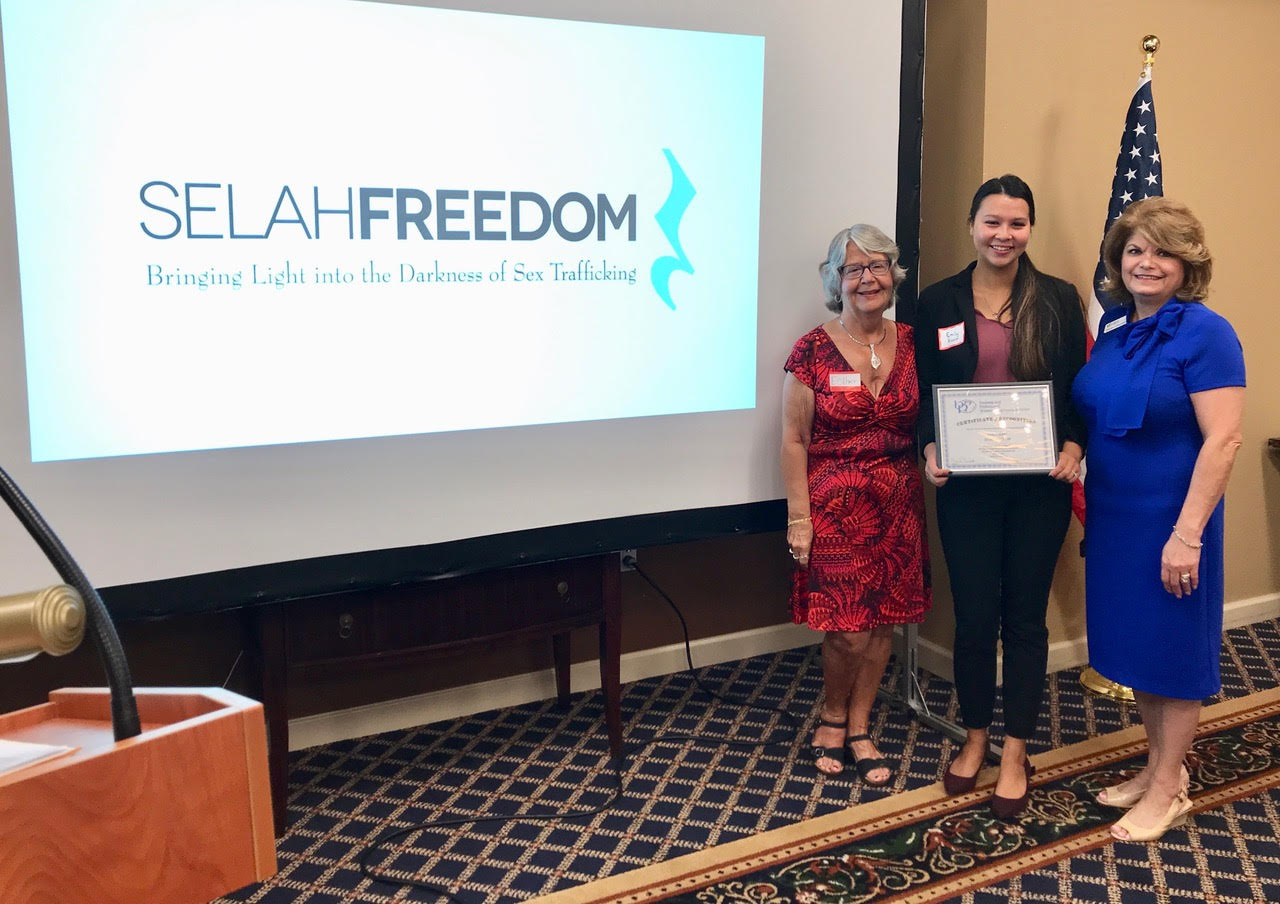 l to r- Esther Bird - President, Emily Hunt with Selah Freedom, Morina Chmielak - Former President