11th Annual Wine Tasting and Auction
Dr Karen Taylor, LAc. Dom - Speaker on October 15, 2019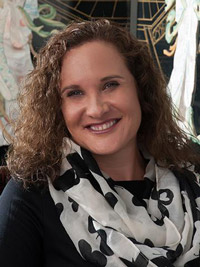 Dr. Karen Helmick-Taylor, LAc. Dom, will be the speaker at the October 15, 2019 Business and Professional Women of Englewood and Venice (BPWEV) meeting.
Dr. Karen began her professional career as a division one track and field/cross country coach and professor of exercise physiology/wellness. After several years of suffering from 'incurable' migraine headaches (some were even classified as TIA's) she decided that there had to be a treatment that would work for her.

After exhausting all western medicine therapies with no improvement, on a whim she tried acupuncture. Now 8 years later, she remains migraine free! She was so impressed with the medicine and its potential to enhance the lives of others that she immediately began classes to become a doctor of Oriental Medicine.
Business and Professional Women State Conference Celebrating 100 years!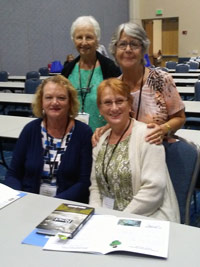 Top Row: Carol Kouba, Esther Bird
Bottom Row: Debra Straw, Cynthia Fredricks
On June 27-29 in Punta Gorda the Business and Professional Women of Florida gathered at their annual state conference to celebrate 100 years! This event was attended by six of our members: Syd Gibson, Debi Straw, Cyndi Fredricks, Carol Kouba and Morina Chmielak.
Come to the meeting on July 16 to learn about the conference and discover the secrets to our excitement. You'll hear about the motivational speakers, the hawg calling luncheon, the great awards ceremony, the installation and learn why we are personally planning to "do it again" next year.
This conference made us excited and enthusiastic about how we can proceed to make our Local Organization stronger and better. At the July 16 meeting, you will hear what makes the BPWFL conferences worth attending. CLICK HERE to Register
BPWEV 2019 Scholarship Recipients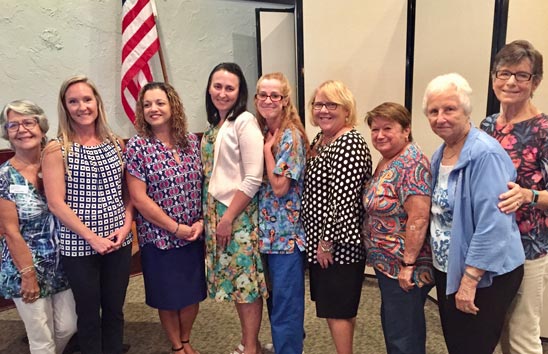 l to r: Esther Bird - Scholarship Committee, Allison Hinshaw, Christine Pomerleau, Oksana Zimin, Stacey Chaisson - Scholarship recipients, Katie Malloy, Natalie Bloom, Carol Kouba, Karin Drury, Scholarship Committee
Four lucky ladies were awarded the Business and Professional Women of Englewood and Venice (BPWEV) Christine Davis Memorial Adult Learner Scholarships in the amount of $1,000.00 each this year. They are Allison Hinshaw, Christine Pomerleau, Oksana Zimin,and Stacey Chaisson. Two are attending State College of Florida, two Florida International University. Their field of study varies from nursing, to early childhood education to school administration. Recipients have to either reside in Sarasota or Charlotte County. The BPWEV members worked hard raising the money for these scholarships through several fundraisers, the annual Wine tasting/Auction and a Hats off to Women Workshop being the most popular ones. BPWEV meet every third Tuesday of each month at the Left Coast Seafood Restaurant in Venice.
The public is invited to all meetings. The mission of BPWEV is: "To achieve equity for all women through Advocacy, Education and Information."