Eric Watters - Speaker on May 16, 2023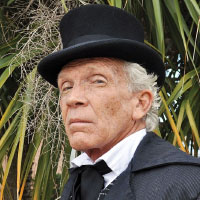 Eric Watters as Ebenezer Scrooge
Our Speaker for the May 23rd meeting will be Dr. Eric Watters, the Director of Development at the Venice Theatre. Originally from southern Indiana, he has lived in New York state, Pennsylvania, Kentucky and Florida for 40 years. He has a B.A. from Lafayette College in European History and Literature, a M.A. from Binghamton University in English, and earned a Ph.D. from the University of Kentucky in Philosophy.
His career includes High school English teacher, College administrator, Financial Consultant with Lehman Bros., Portfolio Manager with The Bank of Boston (here in Sarasota), and has been the Director of Development at Venice Theatre since 2011.
He was a "song and dance" man for 30 years, doing shows up and down the west coast of FL. and still does cabaret shows at VT, and has played Ebenezer Scrooge at the theater for 16 years.
He is currently in the process of raising $4,000,000 to rebuild Venice Theatre. "It will be the second most important thing I've done in my life. You'll probably want to know THE most important thing, but I'll keep you guessing."
May 2023 - President's Report
By Esther Bird
For BPW local organizations, it's time for nominations, elections, and officer installation. Our election of officers and installation will be held at the April 18 dinner meeting. We begin the new fiscal year (May 1) with a new slate of officers – new leadership for our group. The new officers are all wonderful women and BPWEV members who have taken on the roles needed to run our organization and continue the work for us in the coming year.
It has been my honor to serve as your president and with mixed emotions I move on. I was blessed to serve with a very strong and hardworking executive committee. A special thanks to Sue Hogrefe, Deb Straw, Jodi Dazio and Cyndi Fredricks.
As revealed by the nominating committee, our President will be Cyndi Fredricks, 1st Vice President will be Kathi Obendorfer, 2nd Vice President Sus Hogrefe, Secretary Teresa Karaffa and Treasurer will be Kristina Bow.
I am writing this article the day of our Professional Women's Workshop. The event was great and those who attended enjoyed all four speakers. Special thanks to Stephanie Marcusky for agreeing to chair this event. Great job, Stephanie!
The coming year we will be focusing on increasing our membership. I challenge each of you to invite friends to attend a meeting and encourage them to become members.
Although after the April meeting, I will not be standing behind the podium, but I will be there doing what I can to make BPWEV strong and successful. This is a fantastic organization and I am honored to have been a member for approximately 20 years.
Announcement About Scholarships
If you or someone you know have interest in going back to school, be sure to check out our website tab "Scholarships" for all the information needed and the application. Application deadline is April 30, 2023.