January 2021 Speaker, Dale Wolfson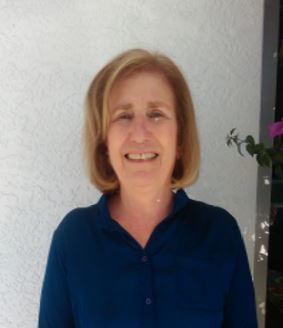 Dale Wolfson is currently the volunteer coordinator of Compeer Sarasota. Dale has an extensive background in education, including classroom teacher of middle school and high school students, life skills teacher to developmentally delayed adults at Children's Haven, and most recently before taking the job at Compeer, as the program director for KLAS, Kids Learning After School, a 21st Century Community Learning Center grant funded by the Federal Department of Education operating in Chambersburg, PA and providing at-risk students with academic enrichment in an after-school setting. She lived in Sarasota from 1983 until 1996, then moved to Pennsylvania, but returned home to roost in Sarasota in 2014.
Sign up no later than Sunday, January 17-5:00 p.m.-register here
$23.00 payable at the door or $24.00 PayPal
H'Attitude Luncheon-February 13, 2021
Jennifer Mechling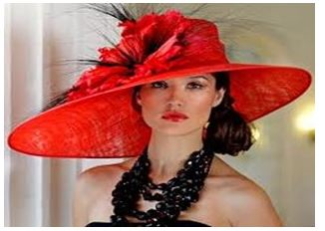 Please join BPWEV for our H'Attitude luncheon to be held at Plantation Golf and Country Club located at 500 Rockley Blvd., Venice on Saturday, FEBRUARY 13, 2021. Registration will begin at 11:30 with lunch being served at noon.
We are thrilled to announce Dr. Christopher Cortman, PSYD as our featured speaker who will speak on the importance of the three 'Tudes: Attitude, Fortitude, and Gratitude.
Sponsorships are available at: $200 - PLATINUM LEVEL, $125 - GOLD LEVEL, and $75 - SILVER LEVEL. (See link below for sponsorship form)
Thank you to our current Platinum sponsors: Aston Gardens at Pelican Pointe, our Gold Sponsor Professional Travel Services-Morina Chmielak, and to our current Sliver sponsors: Tony and Carol DeGulis
Registration is required and will be available online at bpwev.org for $35.00. Reserve your seat early as spaces are limited. If you have any questions please, contact any of our committee members: Morina Chmielak, Esther Bird, Helena Cao, Debi Straw, Tonya Cher or contact me at 614-325-8530.
Wear your favorite hat to win special prizes.
Part of the proceeds benefit BPWEV Scholarship Fund.
Click here for the luncheon flier
Click here for Sponsorship details
Click here to pay for Sponsorship online
Register and buy raffle tickets here

(People who don't have a PayPal account can pay through the PayPal checkout by entering their credit card. PayPal sometimes hides this option and only shows a prompt to login if your browser remembers that you have logged into PayPal at some point in the past.)
Click here using your PayPal account to send $35.00 to BPWEV
Adopt a Senior- December 18, 2020
Esther Bird
HOLIDAY GIFTING TO SENIORS EVENT
By Esther Bird
On December 18th at 3:30 pm our local organization celebrated Christmas by gifting to low income seniors at the Friendship Center in Venice where I am employed.
Nineteen seniors were blessed with gifts from various members and all were very appreciative. A few of our members selected two seniors to buy for and a few seniors were unable to attend. The gifts were still purchased and given to them directly and privately. If our member was unable to attend, the gifts were given to me early and I made sure their senior received them at the party. Many members and others donated so many door prizes for the event that every senior received at least one of the prizes.
Masks and social distancing were enforced for safety and protection of our guests. Waitresses served directly at the tables (one person per table) and provided beverages and snacks donated by Pauline from Griffin and Griffin Law Firm, who sponsored the event. Pauline was a great bar tender and gave a brief description about how her law firm can serve the needs of seniors helping with estate planning.
Fran Valencic attended the event and took photos. I expect that she will be reporting about the event in the Gondolier very soon.
The evening was magical - everyone was in the holiday spirit with great music playing softly and holiday activities to be enjoyed by all. This was another of our service projects for 2020 and a great way to make the difference in the lives of some seniors who are often alone and who don't always receive gifts.
Cookies for Scholarships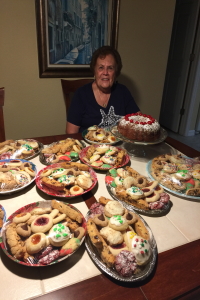 BPW member Carol Degulis is known throughout her community as the Queen of Baking. Her love for cooking and baking began when her mother taught her the basics as a young girl.
Carol is offering her baking skills to our organization in an effort to help raise money for scholarships.
Each month she will take orders for homemade Italian cookies. All of the ingredients will be donated and 100% of the profits will go towards scholarships.
Along with the previous options for Biscotti, Amaretto and Pizzelle, two new cookies will be Pecan Sandies and Peanut Butter kisses.
The cost is $15.00 for approximately 1.5 lbs. A two day notice is required for all orders. Order your holiday cookies early so you don't miss out on this great deal. You can freeze any of these cookies.

Carol can be reached at

This email address is being protected from spambots. You need JavaScript enabled to view it.
BPWEV meets every third Tuesday of each month at the Plantation Golf and Country Club in Venice. The mission of BPWEV is "To achieve equity for all women through Advocacy, Education and Information." Nationally, BPW celebrated its 100th anniversary in 2019.
Englewood BPW was chartered in 1960. The organization believes strongly in "Women Helping Women". To achieve this, the group offers Adult Learner Scholarships to women who are returning to college or vocational schools to achieve higher education in order to provide better for their families. www.bpwev.org
Honoring Carol Kouba BPW Member for 40 Years!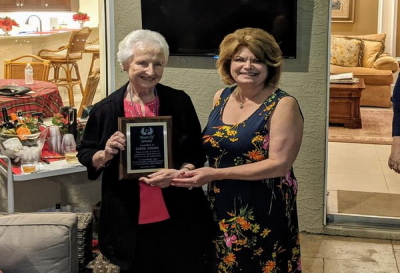 Carol Kouba-BPW Member of 40 Years with Morina Chmielak, BPWEV President
Carol Kouba, a BPW member for 40 years, has been an outstanding example of loyalty and dedication to BPW. Carol moved to Florida in 1958 from Newark, Ohio. After High School graduation she attended the University of Florida for 2 years and was employed for 8 years at Shands Teaching Hospital in Gainesville transcribing medical reports.

This started her career in medical information management. She became an Accredited Record Technician in 1984, Certified Coding Specialist in 1992 and received her Bachelor of Science in 1991 from St. Leo College.

Carol was the first in her family to earn a Bachelor's Degree.
After her move to Englewood in 1972, Carol worked at the Venice Hospital where a friend encouraged her to join the local BPW Club.
After Venice she was employed at Fawcett Memorial Hospital and retired from Sarasota County Health Department in 2005. Carol became a member of the Gulf and Bay BPW in Venice in 1979 and later joined BPW Englewood Venice. This amazing lady held most offices in BPWEV, with the exception of treasurer. BPWEV enjoyed her guidance and leadership as president for 3 years from 1996 - 1999. When BPW clubs still had districts, Carol stepped up to the position of District Director.
Each year Carol tries to attend the conference of BPW/FL in June, held at a different venue each year. She also enjoyed attending the BPW/USA National Conference in Reno, Nevada and another one when it was held in Orlando, FL. Carol doesn't like to talk about everything that she has done for BPWEV in the past 40 years, besides being president for 3 years.
Bobbie Marquis, BPWEV president at that time, introduced the club to an electronic newsletter format about 12 years ago. Carol has been the publisher of the newsletter ever since!
Just recently she is receiving help from the new member, Jennifer Mechling. The Scholarship Committee has counted on Carol for probably at least 10 - 12 years to be part of that committee. Carol was honored several years ago as BPWEV's Woman of the Year, a much deserved recognition. In 1999/2000 when BPWEV first organized the Dollar for Mammogram 501 c (3) charitable organization, Carol volunteered to be on the Board of DFM. Even though DFM is no longer a BPWEV function, Carol still helps that organization and still serves on the Board.
Carol has a brother in Venice and 2 nieces, one in Venice and one in North Port. Her hobbies include reading, traveling when possible, a visit to a casino occasionally, playing bingo and BPWEV .
You will find Carol volunteering for every major event BPWEV has planned. The members of BPWEV are very grateful to this wonderful member for all her service and dedication to advancing BPWEV's mission of " Women Helping Women" and "To achieve equity for all women through Advocacy, Education and Information!
Morina Chmielak -BPWEV Woman of the Year
Morina Chmielak, President and Woman of the Year
Congratulations to Morina Chmielak, 2020 Woman of the Year!
It's been a BPWEV tradition to honor one of our members at the October Dinner Meeting, which is also National Business Women's Week, for her accomplishments in our organization, achievement in her work field, and for her service in her community in which she lives.
Morina was nominated for this honor by her BPWEV sisters! She is a perfect example of what can happen when one person is inspiring, organized, helpful, always there, motivating, kindhearted, supportive and truly a nice person!
Thank you, Morina, for guiding BPWEV in 2020 and the leadership you have shown us! We are very grateful to you!
Women Helping Women 2020
Women Helping Women, one of BPWEV's main missions, truly became a great success this year! Our members and guests contributed $900.00
to this annual project. Madeline Salerno and Karin Drury spent many hours shopping for 8 youngsters ranging in age from 2 - 13.
All the clothing asked for were purchased and for each child 1 or 2 toys that were on the 'need - wish' list. A bicycle for the 13 years old 'young lady' was the most difficult item to find, but as you can see in the photo, one was found. Another training bike was donated for the 6 year old girl. "Needs" and "wishes" ranged from Boy Scout items to Sunday Church clothes. It was fun to shop for all this as well as for toys that didn't exist when most of us were youngsters.
Each year I'm always profoundly touched by the generosity and commitment to this cause by our membership and guests. Madeline was a fantastic helper this year and without her persistence to find the right clothes and toys, some of them on line, this project could not have been accomplished as quickly as we had to do it this year as the deadline for delivery of everything to the Salvation Army was December 1, 20.
Madeline Salerno and Karin Drury
Jewels of Business Women's Workshop-Thank you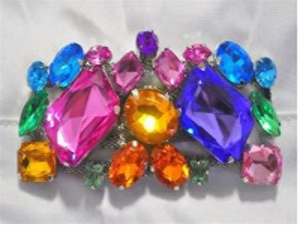 The December 5th "Jewels of Business" workshop was fantastic and everyone in attendance had a great time. The speakers were wonderful and the entire day was exceptional!
I want to again thank everyone who contributed to making this a successful event. First my committee (Morina, Sue Hogrete, Karen Helmick, and Jennifer Mechling). Without your help this event could not have happened. Also thank you to the speakers and our sponsors of the event.
The details of this event will be submitted to BPWFL with realistic hope that we will win again for "Best Individual Development Program" in the state. You can see a summary of the event in the following article
Summary of Jewels of Business Workshop
The Business and Professional Women of Englewood and Venice (BPWEV) held a well attended workshop 'Jewels of Business' at Plantation Gold and Country Club on December 5, 2020. The speakers in the morning were: Veronika Winsky - Owner of "The Dream Life Formula Coaching", a dynamic, inspiring presenter who left the 'rat race' corporate world after 8 years, determined tofulfill her own calling. Now a speaker and coach she speaks on virtual and live stages globally and teaching her clients how they can get re-energized and clear on their own purpose driven path, not some day but NOW!
Mark Rizzo addressed the subject "How to Stay Safe Online". His background of 37 years of experience supporting the DoD Intelligence Community, IT platforms, ISSO for Genco Engineering Services, Inc. and his developing and managing securityplans and guidelines to establish a safe and protected operational environment, certainly gave him the knowledge and experience togive advice and suggestions on how to stay safe online. Mark currently is assisting the North Port Police Dept.'s IT department. He is also teaching mobile phones, tablets, and PC's at the Senior Friendship Center of Venice.
William C. Mechling concluded the morning program with his presentation on "Improving your personal Health/ A Health Insurance Perspective". William (Bill) is an Ohio licensed attorney who spent over 33 years working in the health industry. Bill began his career,after graduating from Law School, in the health insurance industry with Blue Cross and Blue Shield of Central Ohio where he held the position of General Counsel, Corporate Secretary and President. After his 25 year career at Blue Cross, Bill accepted market lead roles with UnitedHealthcare in both their northern Ohio and Central Ohio markets. During his 8 years at UnitedHealthcare, Bill became intimately involved in the market introduction of an innovative product named RealAppeal which aimed at reducing overall health care costs by improving the individual health of UnitedHealthcare's insured. As a member of the RealAppeal test market and a spokesperson for the product, Bill has become an advocate for the importance of personal health and how to empower individuals to achieve and maintain lifelong wellness. His motivational presentation and narration of his personal journey to good health will inspire other people to follow his lead.
After lunch the program continued with 3 more presentations. Dr. Christopher Cortman, renowned Florida Psychologist and author of 3 books, talked about "Dealing with Personal Challenges". Awarded a Doctorate of Psychology in San Diego, CA in 1983, Dr. Cortman has practiced in Florida since 1985. He received the 1st place Reader's Choice Award by the Venice Gondolier Sun for "Best Psychologist" in the years 2013, 2014, 2015, 2016 and 2917. He also won the award for "Outstanding Contributions to Psychology in the Public" in 2015 in the state of Florida. He appeared nationwide on talk radio and television, including Disney Radio, MTV, and ABC. Dr. Cortman continues to maintain a successful private practice while pursuing projects that enable him to meet a larger need for psychological expertise in the community. These projects include frequent public speaking with the use of 'edu-tainment', as he prides himself on providing an 'educational' experience riddled with humor that keeps the audience involved and 'entertained'.
Dr. Karen Helmick, LAc.DOM, educated the audience about "Cosmetic Options for Women". Dr. Karen grew up in Maryland, always wanting to become a successful professional athlete. She had the desire and work ethic, just not the genetics. So she changed her tactics and started to coach others and reveled in their successes. She coached track and field athletes until the strain of constant travel became too much for her. She left coaching and moved into being a collegiate professor. During that time her debilitating migraine headaches that had already started while attending college, became unbearable. Nothing seemed to work for these headaches that conventional medicine had to offer her. Finally she tried acupuncture. It changed her life so significantly that she decided immediately to change careers and study Oriental Medicine. As practicing Acupuncturist and Doctor of Oriental Medicine she is happy that all her previous knowledge and careers meld so beautifully together - encouraging her patients toward better health. In her free time, Dr. Karen enjoys riding her horse, Omega, and spending time with her 4 rescue mutts!
Cynthia Fredericks talk about "How Do I Get It All Done" was very informative and educational with excellent advice to the audience on how to function more efficiently, skillfully, effectively in order to get your "to do list' accomplished as originally planned, rather than procrastinating! Cynthia is an excellent example on doing what she preaches. Not only is Cynthia the treasurer for BPWEV, but she is also a star member of the EnglewoodChamber of Commerce. She is the co-founder of Triple S Englewood, a support group for business people. Her husband and Cynthia currently own and operate the "Quick Signs" shop in Englewood, where they live with their dog, Max. Cynthia moved from Kansas to Englewood in 2015. While in Kansas Cynthia served as the Director of the Volunteer Center at Hutchinson Community College where she coordinated with over 100 non-profit organizations throughout the community to place and support volunteers. She sent the audience home witha "To Do List Self Appraisal", with great advice on that list.
Thank you Dana!
Karin Drury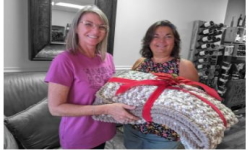 The Business and Professional Women of Englewood and Venice (BPWEV) who held their annual Wine Tasting Scholarship fund raiser at Rumours, the new wine bar
at Lemon Bay Shopping Center, presented a thank you gift to Dana Kuhn, owner of the establishment, a beautiful crochet blanket!
The blanket was crocheted by BPWEV member Madeline Salerno. Madeline had also crocheted a blanket, just like the one in the photo, for the fundraiser where chance tickets were sold.
Dana Kuhn had set her heart on winning that blanket but wasn't the lucky one that evening. She now is the lucky owner of another crochet blanket. BPWEV is very grateful to the owners, especially Dana who spent a lot of her time and efforts to make the Wine Tasting a success.
BPWEV Welcomes Newest Members
I have had the privilege of inducting four new members to our group. Jennifer Mechling was inducted at our August meeting, Debby Wolfe and Helena Cao were inducted at our September meeting, and Madeline Salerno at our October meeting.
Jennifer Mechling was born and raised in Ohio where she attended the College of Wooster and earned a BA in Spanish and earned a MA in Education from Ashland University. She taught Spanish for 25 years and retired to Florida in 2019.
Debby Wolfe lives in Port Charlotte and works full time as a controller for a commercial construction company. She received her bachelor's degree in Finance from University of Wisconsin - La Crosse. She served as past board member of United Way and Brothers Helping Others before moving to Florida.
Helena Cao was born in Cuba. She left with her mother and sister and grew up in Chicago. She Graduated from U.of I. with a BS Degree in Biology and began her teaching career. She began her teaching career as a K, 1st, and 2nd grade bilingual teacher in Summit, IL. She moved to Venice in 1994 and secured a teaching position with Sarasota County Schools but this time teaching Middle School Science.
MadelineSalerno and her husband move to Venice from NY in 2017. She was in the accounting field for over 30 years but since her father moved in she has been focused on caring for him.
Members, please continue to invite your friends, colleagues, acquaintances to join us. Our group can do so much more and is stronger with more members. We are well on our way towards a goal of achieving the Mildred Taylor Rhodes Award - To the LO having the highest percentage gain in paid memberships from May 1st 2020 to April 30th 2021. And Morina Chmielak is currently in the lead as top recruiter!
Let's keep the momentum going!
Jennifer Mechling with Debbie Straw Madeline Salerno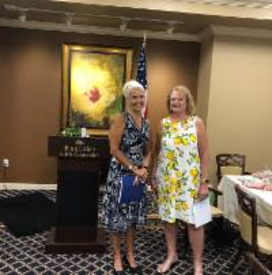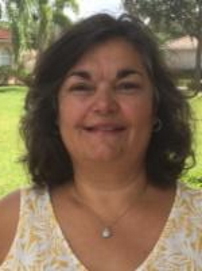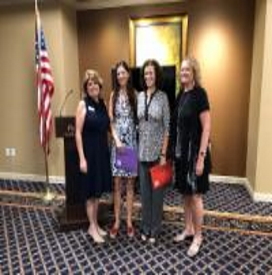 Morina Chmielk, Debby Wolfe, Helena Cao and Debbie Straw