Business and Professional Women State Conference Celebrating 100 years!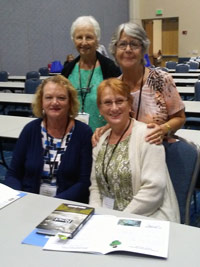 Top Row: Carol Kouba, Esther Bird
Bottom Row: Debra Straw, Cynthia Fredricks
On June 27-29 in Punta Gorda the Business and Professional Women of Florida gathered at their annual state conference to celebrate 100 years! This event was attended by six of our members: Syd Gibson, Debi Straw, Cyndi Fredricks, Carol Kouba and Morina Chmielak.
Come to the meeting on July 16 to learn about the conference and discover the secrets to our excitement. You'll hear about the motivational speakers, the hawg calling luncheon, the great awards ceremony, the installation and learn why we are personally planning to "do it again" next year.
This conference made us excited and enthusiastic about how we can proceed to make our Local Organization stronger and better. At the July 16 meeting, you will hear what makes the BPWFL conferences worth attending. CLICK HERE to Register
BPWEV 2019 Scholarship Recipients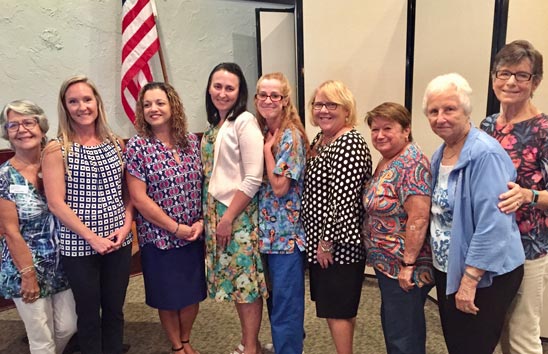 l to r: Esther Bird - Scholarship Committee, Allison Hinshaw, Christine Pomerleau, Oksana Zimin, Stacey Chaisson - Scholarship recipients, Katie Malloy, Natalie Bloom, Carol Kouba, Karin Drury, Scholarship Committee
Four lucky ladies were awarded the Business and Professional Women of Englewood and Venice (BPWEV) Christine Davis Memorial Adult Learner Scholarships in the amount of $1,000.00 each this year. They are Allison Hinshaw, Christine Pomerleau, Oksana Zimin,and Stacey Chaisson. Two are attending State College of Florida, two Florida International University. Their field of study varies from nursing, to early childhood education to school administration. Recipients have to either reside in Sarasota or Charlotte County. The BPWEV members worked hard raising the money for these scholarships through several fundraisers, the annual Wine tasting/Auction and a Hats off to Women Workshop being the most popular ones. BPWEV meet every third Tuesday of each month at the Left Coast Seafood Restaurant in Venice.
The public is invited to all meetings. The mission of BPWEV is: "To achieve equity for all women through Advocacy, Education and Information."
May 2019 President's Message
The Year in Review -
This past year has been very rewarding for me serving as your President because of the involvement of Everyone.
In August, Irene Slattery and Morina Chmielak arranged for back to school items collected by our generous members to be given to Englewood and Venice area schools for students in need.
The awarding of 4 adult learner scholarships thanks in part to funds raised at the Wine Tasting Event at the Venice Train Depot co chaired by Morina and Mary Ann Terry in October. Several members lovingly prepared hors d'oeuvres and also contacted local restaurants to provide trays of food. Joyce McCaffrey, who took time away from her wedding planning to contact the wine distributor to provide wines to taste and also to purchase. Cyndi Fredericks provided a professional banner of our sponsors and Natalie Bloom greeted everyone upon entry at the check-in table. Thanks to all who provided donations and again to Morina for putting them together in baskets. Most importantly, a special thank you to all in attendance participating in the raffles and in wine purchasing.
Public Policy May 2019
In case you missed it, the following appeared in the Spring 2019 issue of Florida Business Women, the 2019 60-day Legislative Session began on March 5 and is expected to end on May 3.
Two of the issues highlighted by the League of Women Voters Florida (health care and reproductive rights) overlap with BPW/FL's Public Policy. Find more information at lwvfl.org.
The American Association of University Women (AAUW) Florida derives its priorities from the national public policy platform and two of the issues coincide with ours: economic self-sufficiency for women and equality for a diverse society. You can sign up for Two-Minutes Activist legislative alerts at aauw.org
The BPW/FL Proposed Legislative Platform for 2019-2020 includes the following Items - more details on each item will be included in future newsletters.
ITEM 1: Equality for All
ITEM 2: Economic Equity, Opportunity and Self-Sufficiency
ITEM 3: Safe Workplace
ITEM 4: Health Care
ITEM 5: Environment