Join us for 2nd Annual "BFF" May Celebration & 100th Anniversary of BPW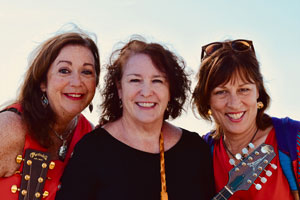 Brenna Larson, Coleen Marren, Beth Travers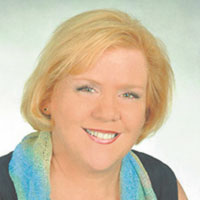 Katie Malloy
Would you like to be entertained by local artists, enjoy fantastic food and bring your BFF to an evening of fun, then you'll have to sign up for the 2nd Annual BFF celebration of the Business Women of Englewood and Venice (BPWEV), also celebrating 100th Anniversary of BPW.
Entertaining music will be provided by the SHARK SISTERS. They are a lively acoustic trio making waves and capturing hearts in Southwest Florida with an eclectic mix of originals and classic folk, Americana, country and blues. Showcasing the musical talents of Brenna Larson, Beth Travers and Coleen Marren, the group blends heartfelt and humorous songwriting with compelling vocal harmonies and instruments to deliver a uniquely entertaining musical experience.
BPWEV member, Katie Malloy, talented actress/comedian, will make sure her hilarious, humorous and comical presentation will have you laughing till your sides hurt.
All this will happen on Tuesday, May 21, 2019 at 5:15 - 7:45 PM at the Left Coast Seafood Restaurant in Venice. Tickets at the door $23.00 - Paypal $24.00
In honor of the special women in our lives, BPWEV is hosting this 2nd Annual BFF May Celebration. Invite the special female in your life ...mother, daughter, sister, niece, granddaughter, friend, neighbor, co-worker, etc. for this special evening. Chances for great prizes will be available, it will be a "BFF Celebration" to remember!
Irene Slattery, Chair
May 2019 President's Message
The Year in Review -
This past year has been very rewarding for me serving as your President because of the involvement of Everyone.
In August, Irene Slattery and Morina Chmielak arranged for back to school items collected by our generous members to be given to Englewood and Venice area schools for students in need.
The awarding of 4 adult learner scholarships thanks in part to funds raised at the Wine Tasting Event at the Venice Train Depot co chaired by Morina and Mary Ann Terry in October. Several members lovingly prepared hors d'oeuvres and also contacted local restaurants to provide trays of food. Joyce McCaffrey, who took time away from her wedding planning to contact the wine distributor to provide wines to taste and also to purchase. Cyndi Fredericks provided a professional banner of our sponsors and Natalie Bloom greeted everyone upon entry at the check-in table. Thanks to all who provided donations and again to Morina for putting them together in baskets. Most importantly, a special thank you to all in attendance participating in the raffles and in wine purchasing.
Public Policy May 2019
In case you missed it, the following appeared in the Spring 2019 issue of Florida Business Women, the 2019 60-day Legislative Session began on March 5 and is expected to end on May 3.
Two of the issues highlighted by the League of Women Voters Florida (health care and reproductive rights) overlap with BPW/FL's Public Policy. Find more information at lwvfl.org.
The American Association of University Women (AAUW) Florida derives its priorities from the national public policy platform and two of the issues coincide with ours: economic self-sufficiency for women and equality for a diverse society. You can sign up for Two-Minutes Activist legislative alerts at aauw.org
The BPW/FL Proposed Legislative Platform for 2019-2020 includes the following Items - more details on each item will be included in future newsletters.
ITEM 1: Equality for All
ITEM 2: Economic Equity, Opportunity and Self-Sufficiency
ITEM 3: Safe Workplace
ITEM 4: Health Care
ITEM 5: Environment