Heidi Ganski (Development Coordinator at Charlotte County Homeless Coalition) - Speaker on June 21, 2022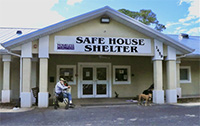 The Charlotte County Homeless Coalition, Inc. is a 501©(3) not-for-profit organization incorporated in June 1989 and is the largest provider of food and homeless prevention services in Charlotte County. The organization is the only official Emergency Shelter in the surrounding five counties with a capacity of approximately to 62 residents.
The Emergency Shelter provides immediate housing and safety for individuals and children, generally for up to 30 days, allowing our Case Managers to assist with finding stable, affordable housing. The Emergency Shelter has 20 beds reserved for homeless Veterans, referred to us from neighboring counties. Since 2015, the Homeless Coalition has provided Emergency Shelter to more than 500 Veterans.
The Hunger Prevention Programs include a Hot Meals Program, open 365 days per year, serving a nutritious breakfast, lunch, dinner, and snacks to more than 180 people every day. The Food Pantry is open Monday mornings and Wednesday afternoons, providing a three-day supply of food to families in need. The Bridges Out of Poverty curriculum offers classes and group training to equip clients with the knowledge and tools needed to help them move out of poverty and make responsible financial decisions that will help ensure they stay housed following services.
Most recently, The Homeless Coalition moved and expanded their resale shop, 'Fabulous Finds' where it is heavily supported by volunteers. Thousands of families are still in need of affordable clothing and furniture in the community, and they now have a place to go. Fabulous Finds helps further the mission of the Coalition, to prevent and alleviate hunger and homelessness, by taking a more holistic approach to the obstacles faced by their clients. This means offering job training, professional wardrobe for interviews, and furniture for a new cozy home.
The Homeless Coalition takes pride in the work they do and the collaboration within the community. All the volunteers, organizations and partnerships make it possible for The Homeless Coalition to function. With these continuous efforts, the numbers of homelessness in Charlotte County have drastically decreased. Everyone in the community coming together makes it possible.
I look forward to meeting you all, and talking more about what it is we do and how integral your support is in helping the most vulnerable of our community.
June 2022 - President's Report
By Esther Bird
I certainly hope all members who are mothers enjoyed a great Mother's Day celebration with their families.
I am so pleased about how our 4th Annual BFF Event went. This is a very special event where we honor and focus on the wonderful women in our lives. We had 30 ladies attend. The musical entertainment by the Shark Sisters was great and so was the comedy presented by Katie Malloy and Judi Pernal. The Committee Chair, Irene Slattery, did a great job again.
As you may recall, at the April meeting, we voted to return to Plantation for future meetings. I met with Christine (our contact at Plantation) on 5/17 and we have reached an agreement. Therefore, we will be meeting at Plantation each month. Our price has not increased so attendee will pay $28. Members may choose to pay at the door, but all guests must pay in advance.
One change in the contract is that PGCC is requesting a count for our dinners 10 days prior to the meeting date. I am aware that many ladies are accustomed to making their reservation within a few days of the meetings, but that needs to be changed. I will send out email reminders for you to make your reservation prior to the cut off date. Important! the absolute final time to make reservations is 72 hours (3 days) prior to the meeting. No exceptions! If something happens that you must cancel attending, you must notify me via phone, text, or email at least 72 hours prior to our meeting. (Saturday by 5 pm)
Please note: if you do not have a PayPal account, you can pay for your dinner online using a credit card. When making your reservation, select pay with PayPal, then scroll down to see where you can enter your credit card information. If you need assistance, you may call me and I will walk you through it.
As I write this article, I am preparing to leave today to attend the annual BPWFL conference in Saddlebrook Resort. I look forward to a great conference with valuable educational workshops and socializing with BPW sisters. After the conference, I will share with our members the highlights of the conference.
We need volunteers! No one has stepped forward to serve as our secretary. If you are willing and able to provide this service or want to learn more about what is expected of the secretary, call me at 315-440-6814. We also are seeking someone to take over the Public Relations Committee Chair and the Member Communication Committer Chair. Call me if you are interested and want to know what tasks are expected if you volunteer.
May every member enjoy good health and happiness. See you at the June 21 meeting.
Community Outreach Project for June
By Esther Bird
In the past we have done some Community Outreach Projects and members have donated to non-profits in the area. At the April Board Meeting, it was decided that our project this time will be to support TWIG Cares.
TWIG is a wonderful non-profit that provides clothing and other items to all foster children in the area.d They have two boutique locations, one in Venice and one in Sarasota/Bradenton area. In addition to clothing, each child can select bonus items, a book and a special item. Some examples of special items might be a necklace, perfume or purse for a female. For a male, it could be a toy, stuffed animal, helmet for bike riding. Additionally, each child is entitled to a free book and any socks or underwear they need.
We are asking our members and guests to donate to TWIG and bring the items to the June 21 meeting. A representative will be there from TWIG to take the items to the shops.
The children are from newborn to 18 years of age. All sizes are appropriate. Shoes are an excellent choice, or shirts, pants, pajamas, books, games, underwear, socks, etc.
So please donate what you can and bring it to the meeting on June 21. Thank you in advance.
Photos from May 17, 2022 BFF Celebration