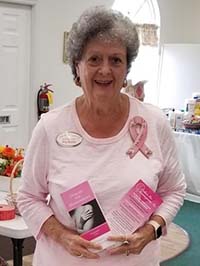 Rita Bertler, President and Founder of Dollars For Mammograms, Inc. has lived in "Paradise" for 38 years in Englewood and loves the luxury of the beautiful beaches in her area. She is very active in her community and belongs to Englewood/Cape Haze Chamber of Commerce, Boca Grande Chamber of Commerce, North Port Chamber of Commerce, Venice Chamber of Commerce, and Charlotte County Chamber of Commerce. Rita is a Beta Sigma Phi and a proud member of GFWC Rotonda West. She was a member of BPWEV for 31 years.
Rita was selected as a Maker 2014 by WGCU for making a difference in the lives of women in Southwest Florida. It was quite an honor and it was the first time someone in the Englewood area was selected by Gulf Coast University's public broadcasting station.
In 2016, Rita was honored & recognized by her community when she was selected to be Grand Marshall of the Englewood Pioneer Day Parade for her service to her community.
Before their retirement Rita and her husband, Dick, owned and operated 3 businesses in the Englewood area: Cornerstone Deli Café, Peppermill Restaurant, and Peppermill Jewelry & Gift Shop.
Rita is from Milwaukee, Wisconsin, and her retirement pension is from the grocery industry, but her favorite job was working for the Archdiocese of Milwaukee in Youth Ministry.
Rita founded Dollars For Mammograms, Inc. in May of 2000 and is always eager to share the story of this "no cost" mammogram service to women who cannot afford one. Her motivation to establish Dollars For Mammograms was driven by her desire not to have any other women feel like she did when she found she had a breast health issue, was uninsured, and did not know where to turn for the help she needed.
Rita encourages all that she meets to follow her mantra: "Let your light shine brightly!" By this, she means do not be afraid of challenges, and be true to yourself and your goals. Do not compromise your integrity or yourself, to further your career goals.