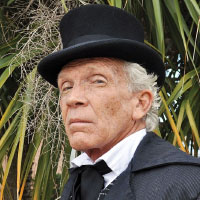 Eric Watters as Ebenezer Scrooge
Our Speaker for the May 23rd meeting will be Dr. Eric Watters, the Director of Development at the Venice Theatre. Originally from southern Indiana, he has lived in New York state, Pennsylvania, Kentucky and Florida for 40 years. He has a B.A. from Lafayette College in European History and Literature, a M.A. from Binghamton University in English, and earned a Ph.D. from the University of Kentucky in Philosophy.
His career includes High school English teacher, College administrator, Financial Consultant with Lehman Bros., Portfolio Manager with The Bank of Boston (here in Sarasota), and has been the Director of Development at Venice Theatre since 2011.
He was a "song and dance" man for 30 years, doing shows up and down the west coast of FL. and still does cabaret shows at VT, and has played Ebenezer Scrooge at the theater for 16 years.
He is currently in the process of raising $4,000,000 to rebuild Venice Theatre. "It will be the second most important thing I've done in my life. You'll probably want to know THE most important thing, but I'll keep you guessing."