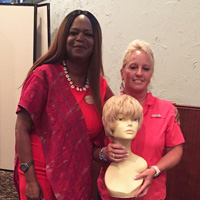 l to r: Joyce Ward, Tammy Beaver - House Manager of Left Coast Seafood Restaurant in Venice
Joyce Ward, representing the Caring Hair Foundation, Inc. was the speaker at the recent Business and Professional Women of Englewood and Venice (BPWEV) dinner meeting. Ms. Ward said The Caring Hair Foundation's vision is clear: "Helping our community matters". By partnering with other individuals and organizations, the Foundation will be able to further its mission of helping adults and children, and thus, continuing to give back to our community.
It was at this meeting that she was made aware of the special fund raising effort put on by the Left Coast Seafood Restaurant on May 19, 2017. The restaurant will donate 50% of the gross sales to help their employee, Cassidy, who was recently diagnosed with acute B lymphoblastic leukemia (ALL) at the age of 19. She immediately began treatment at Moffit Cancer Center and is currently receiving chemotherapy.
After her presentation to the BPWEV members, Ms. Ward listened to the House Manager of the restaurant, Tammy Beaver, as she explained what the fund raiser for Cassidy is all about. Joyce donated the beautiful wig and stand to Cassidy. Many other BPWEV women attending the meeting also made donations to help Cassidy. May she fully recover from ALL!