l to r: Esther Bird - Scholarship Committee, Nathalie Barr - Scholarship Recipient, Carol Kouba - Scholarship Committee, Karin Drury - Scholarship Chair
The Business and Professional Women of Englewood and Venice (BPWEV) awarded a third $1,000.00 scholarship to Nathalie Ann Barr. This is the second time Ms. Barr has received this scholarship. In 2 more semesters she will be receiving her BSN degree from SCF where she maintained an outstanding GPA, while working as court reporter and technician at SMH.
She is a single mother with 2 children at home. Her daughter is also pursuing a BSN degree, her son is a senior in HS. Congratulations, Nathalie!

The mission of BPWEV is: To achieve equity for all women through Advocacy, Education and Information.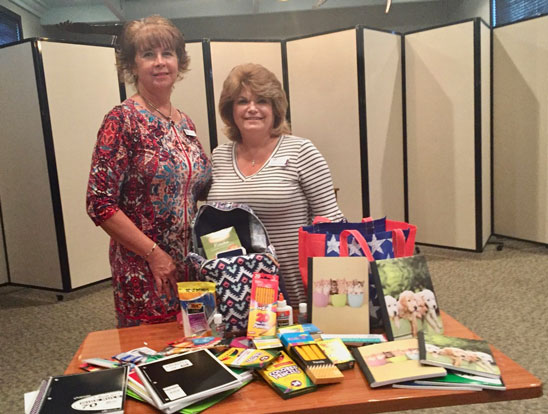 l to r: Irene Slattery and Morina Chmielak, Members
Englewood and Venice BPWEV, Irene Slattery collected 'back to school' items for Kids' Needs - Greater Englewood, Inc. www.Kidsneedsenglewood.org. Many businesses in the greater Englewood area have drop boxes for donation, including Centennial Bank, 1450 Placida Road, where Irene is the branch manager.
At the BPWEV August meeting all donations will be distributed to schools in the Venice area. Morina Chmielak, Fundraising/Philanthropy Chair, initiated this 'back to school' donation event for BPWEV.

l to r: Rhonda Robinson, Carol Kouba - Scholarship Committee, Karin Drury - Scholarship Chair, Cynthia Kenner-Brower, Esther Bird - Scholarship Committee.
The Business and Professional Women of Englewood/Venice (BPWEV) awarded two $1,000.00 Adult Learner Scholarships at their monthly dinner meeting on June 19, 2018 to Rhonda Robinson and Cynthia Kenner-Brower. Both recipients are attending SCF Manatee/Sarasota. (A third winner will be honored at the July meeting)
Rhonda is enrolled in the B.A.S. Technology Management Program, Cynthia is finishing her A.S. degree in Technology and Engineering and has been accepted into the B.A.S. for the 2018 fall semester. Both ladies are single mothers, working and carrying a full study load. Their outstanding GPA helped the Scholarship Committee in the selection of the winners. Cynthia made the President's List of Students to be recognized for their academic successes, quite an honor! Congratulations Rhonda and Cynthia! BPWEV wishes you continued success.
BPWEV meets every third Tuesday of each month at the Left Coast Seafood Restaurant in Venice. The public is invited to attend all meetings. For more information please go to www.bpwev.org
The mission of BPWEV is: To achieve equity for all women through Advocacy, Education and Information.
The Scholarship Committee, Carol Kouba, Esther Bird and Karin Drury, met on May 30, 2018.
BPWEV received 14 scholarship applications. The lucky recipients this year are: Nathalie Barr (2nd time), Cynthia Kenner-Brower and Rhonda Robinson. You will meet them at the June 19 or July 17 dinner meeting.
Please join the scholarship committee in helping to welcome them. All of the BPWEV members, but especially the Wine Tasting Committee, worked hard to procure the funds that allow us topay for three $1,000.00 scholarships each year.
As demonstrated this year by the amount of applications received, the need for Adult Learner Scholarships is great. It would be wonderful, if in the future, BPWEV could award more scholarships. Reading their essays, as well as the letters of recommendation, sending Letters of Regret to the majority of the applicants, is always
sad.
Who will join me this year in paying for the dinners of the awardees? In the past many
generous BPWEV members have volunteered to pay for the dinners, so that the BPWEV budget is not stretched too far.
Thank you all for making this important project of BPWEV possible!
Karin M. Drury
Scholarship Chair
Beginning with the American Revolution and continuing to the present, women have always volunteered in defense of our nation. Many of their contributions have been forgotten and are not recorded in today's history books. The Women's Memorial at Arlington Cemetery is changing this omission through a massive oral history and research project. Foundation Office of History & Collections collect official and personal records, oral histories, photographs, and other memorabilia to help portray women's record of service and citizenship. Growing collections include a library of nearly 1,000 books by and about military women, photograph and document archives, personal and military-issue artifacts, memoirs and oral histories.
These considerable resources serve as a leading educational resource on Women in US Military History.
Over 24,000 women served in World War I half of whom were nurses in the Navy, Army, and Red Cross. From 1942-1945, while men fought in the battlefront of World War II, over 18 million women filled the civilian and defense positions created is the country's shift to wartime productions.
Memorial Day 2018 falls on May 28th.