The Virginia Allan Young Careerist Program (YC) was founded in 1964 by BPW National President Virginia Allan in order to recognize the professional, personal and political achievements of young professional women and men.
Participants, both BPW and prospective members, compete to represent BPW on the Local and State level by delivering a prepared 4-minute speech, interviewing with judges, and preparing a biographical statement and application.
BPW/FL has a long list of former Young Careerist participants and representatives who, by their participation, have developed a greater sense of self-esteem, and have gone on to more rewarding and fulfilling careers and have demonstrated themselves as outstanding leaders in their communities.
This program recognizes and celebrates the accomplishments of young women between the ages of 21 and 35 for their endeavors at bettering themselves and others, professionally, personally and politically. The Young Careerist Program is about mentoring and building self-esteem and confidence. It is about giving recognition and acceptance and the celebration to all participants.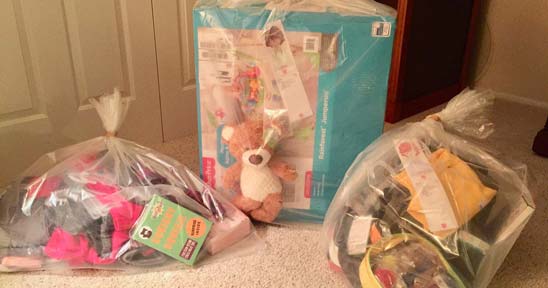 The generosity of our membership is amazing! At the November meeting you all opened your hearts and wallets and donated enough money to purchase all the shoes and clothing desired by the single moms for their children. Three children had their wish for a favorite toy fulfilled. Amazon Prime delivered them to our home in two days. All clothes and shoes were purchased at Walmart who honored out 501(c)(3) status and didn't charge state sales tax.
On November 29,2018 I delivered the gift bags to the Salvation Army who will give them to the three families in time for Christmas. A $100.00 check will also be presented to the Englewood Helping Hands to purchase necessities for the food bank.
Thank you BPWEV members for another successful Women Helping Women project and your generosity.
Merry Christmas, Happy Hanukah and Blessed Holidays to all of you.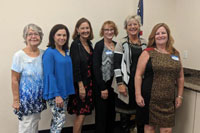 Speakers at Hats Off to Women Workshop l to r: Esther Bird, Committee chairman; Dorothy Korszen; Mk Mueller; Cyndi Fredricks; Kairee Haley; Kathleen Houseweart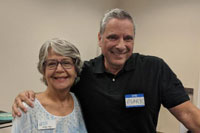 Committee Chair, Esther Bird and speaker Mark Rizzo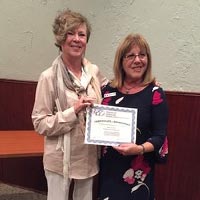 Longtime Business and Professional Women of Englewood (BPWEV) member, Kathy Castellano, spoke from her heart as she educated the members and guests about a disease commonly called "Wobbly Feet Syndrome". Her grandson, Connor, was diagnosed with Ataxia Telangiectasia at about age 3. Since that time the Dzembo and Castellano families have worked endlessly to help fund research for this rare disease. Many fundraisers, supported by local communities, have helped fund encouraging research at several universities. Clinical trials were approved and Conner, 12 years old now, was selected as one of the patients.
Karin M. Drury
The Holiday Season is approaching rapidly, stores are more crowded and the traffic is increasing. So is the urgency to help the single mothers in our community that are struggling to provide basic needs for their families.
As in the past BPWEV will help several families with clothing and food donations for Christmas. The Salvation Army in Venice will provide us again with the first names of 3 single mothers and the wish list for their children. After shopping for the items needed the funds left will be donated to Englewood Helping Hand, Inc. to buy food for their pantry.
For many years our Women Helping Women Project has been BPWEV's special endeavor for the Holiday Season to help disadvantaged single mothers in our community. Please help us to continue this tradition. At the November and December
Meeting I will pass an envelope around for your donations. If you wish to pay by check, please make it out to Karin Drury but add in the memofield Donation to BPWEV/WHW project.
Your help will brighten the Holidays for many families!
Thank you for your generosity!