Ruth Hill - Speaker on February 21, 2017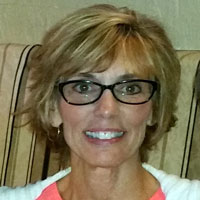 Ruth Hill was born and raised in Xenia, Ohio. Ruth has a Bachelor degree in Social Work and an Associate degree in Early Childhood Education. Ruth was a Public Health Social Worker in Ohio for nearly 20 years.
Ruth and her husband, Mark moved to Florida in November, 2013. She enjoys bike rides, walking her dog, Benji and spending time with friends and visits from family.
2017 BPW Adult Learner Scholarships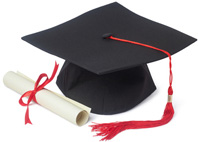 The Business and Professional Women of Englewood and Venice are accepting applications through April 30, 2017 for three $1000 adult learner scholarships for the 2017-2018 academic years.
The BPW Scholarships focus completely on the adult learner. You will note from this website that BPWEV is engaged in the national program "Joining Forces for Women Veterans and Military Spouses". One goal is to help these women in completing advanced education or training.
Please review the Scholarship Information, and follow the directions for submitting your application:
Membership Spotlight:Debra Straw
I am originally from North Tonawanda, NY. My husband and I moved to the rural Western NY, had 20 acres where we had gardens, raised chickens, a couple of dairy cows, beef cows, rabbits, and pigs, as well as making maple syrup. I attended Alfred University and earned a BA degree in Gerontology and worked for a skilled nursing facility in social services, and a year for Head Start.
I have been divorced for 4 years and have been in a relationship with a very sweet man since April. I am currently battling breast cancer and am almost done with treatments. So far everything is looking good. My hair was long and curly before, so I likely will not look like the photo in a few months.
I have a daughter, Heather, who works for the Punta Gorda Airport, in accounting, and is also a local musician. She and her family live in Port Charlotte. I am a member of the Englewood Chamber, former member treasurer of the Women's Group of Englewood Hospital.
I enjoy reading, spending time at the beach, hiking nature trails, listening to music, and I recently started to learn to play the keyboard! I also try to find time for meditation each day. I am an advocate of women's and human rights, and am very proud to be a new member of the BPWEV.
Membership Spotlight: Cynthia Fredricks
I have been married to my husband John for 30 years and have 2 grown Children and 2 granddaughters. I was born and raised in Western New York State, but have lived in Ohio and most recently in Kansas. After many visits to Englewood over the years to visit family, we decided to move here permanently and have been permanent residents since March, 2016.
My husband and I purchased Quick Signs in May and Creative Signs and Graphics in August, and are enjoying being business owners.
I believe in getting involved in the life of my community and giving back when I can. I am a member of the Englewood Chamber of Commerce, a business partners with the Englewood Area Board of Realtors, and a member of PEO Chapter JA in Englewood. I look forward to getting to know the members of BPW and learning more about the organization.
Season of Giving and Sharing
During this "Season of Giving and Sharing", our BPWEV sisters really opened their hearts and wallets at the October and November meetings. A total of $617.00 were donated! Wonderful! That sum was spent to bring a Merry Christmas to 7 children in our community. Rita and Karin went shopping on November 29. It took many hours to find shoes, clothes and 1 or 2 toys for each child. The Salvation Army provided the names for us as well as a list of needs and a wish list for a toy. Everything was delivered to the Salvation Army on December 1, 16.

Your willingness to always support our Women Helping Women project for the Holidays is humbling. May this BPWEV tradition always remind us to be grateful for all the blessings that we have received.
With gratitude and wishes for a Merry Christmas, Happy Hanukkah and Happy Holidays,
Karin M. Drury
BPWEV Welcomes Two New Members
Karin Drury
Two new members, Debra Straw and Cynthia Fredricks, were inducted at the November meeting of the Business and Professional Women of Englewood and Venice (BPWEV) November dinner meeting.
Debra and Cynthia are sisters. They are looking forward to joining the active women of this organization to help women in our community. The objectives of BPWEV are:
To elevate the standards of women in business and professions,
To promote the interests of business and professional women,
To bring about a spirit of cooperation among business and professional women in the United States.

l to r: Judy Braham - BPWEV President, Debra Straw, Cynthia Fredricks and BPWEV member Irene Slattery
Meet Our Scholarship Recipients
Karin Drury, Scholarship Chair
Each year the Business & Professional Women Englewood/Venice (BPWEV) award 3 Adult Learner Scholarships in the amount of $1,000.00 each to d eserving female adult learners in Sarasota and Charlotte county. This year's recipients are: Elisabeth Capell, Angeline Koplau and Jolyn Miller.
Elisabeth is married and has 4 children. Her husband is a disabled veteran. She is working on her AA degree, attending SCF. Angeline Koplau also has 4 children. She just finished her AA and AS degree and will continue to study at SCF specializing in the field of Occupational Therapy. Jolyn Miller has 1 child. She finished her AS Physical Assistant degree from Keiser University in August.
All 3 winners had excellent grades and it is amazing how they juggled the responsibilities of motherhood, family chauffeur, cook, etc. and still maintained college grades way above the average. Congratulations Elisabeth, Angeline and Jolyn!
Information for the 2017 BPWEV scholarships will be available on the website www.bpwev.org as of January 15, 2017.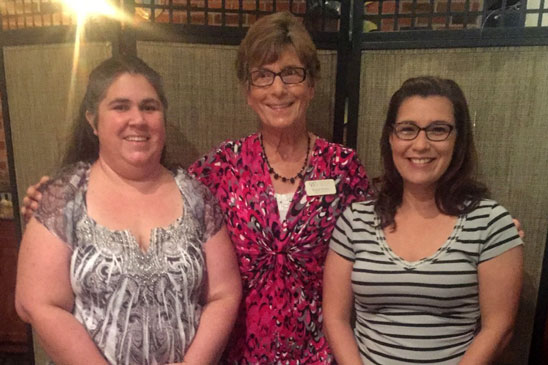 Elisabeth Capell, Karin Drury-Scholarship Chair and Angeline Koplau

Jolyn Miller, Ann Wacholder, Karin Drury, Carol Kouba and Angeine Koplau