May BPW Meeting
Date: May 21, 2015
Time: 5:15 p.m. (Dinner 6:00 p.m.)

Program: TBA
Speaker: TBA
Our monthly dinner meeting is held at Boca Royale Country Club and guests are always welcome.
Click for Map
Reservation Deadline 05/17/15
at 5 p.m.
You Are Invited!
BPW Englewood/Venice
BPW is not like any other organization.
This organization was founded in 1919 and is unique in that it has a long history of advocating for women and is still passionately and effectively engaged in assuring equal rights, equal pay and equal opportunities in the workforce. Every working woman has benefited from the efforts of this organization in Education Foundation, Scholarships, Public Policy, Equal Pay and Lobbying for Women's Rights.
We invite you to attend one of our meetings, learn more and join us!
Our Officers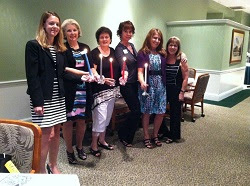 2015 BPW Adult Learner Scholarships
By: Karin Drury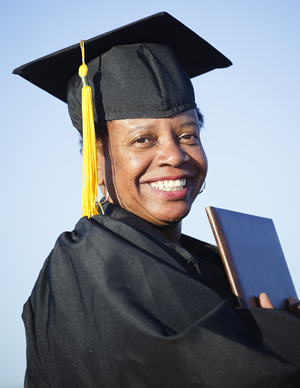 The Business and Professional Women of Englewood and Venice are accepting applications through April 30, 2015 for three $1000 adult learner scholarships for the 2015-2016 academic years.
The BPW Scholarships focus completely on the adult learner. You will note from this website that BPWEV is engaged in the national program "Joining Forces for Women Veterans and Military Spouses". One goal is to help these women in completing advanced education or training.
Please review the Scholarship Information, and follow the directions for submitting your application.
Membership Spotlight: Ann Wacholder
Rita Bertler, Membership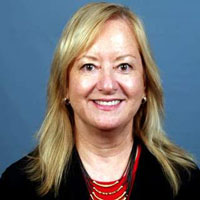 Like many Floridians, Ann came to Florida to take care of her father when he fell ill and stayed on to care for his wife after promising him on his death bed that she would do this.
Upon graduating from NYU, Ann went to work as an accountant and soon earned her CPA. She had a thriving accounting business in NYC, but when she relocated to Florida in 1998 she quickly realized that she would have to start a business from scratch since she knew no one but her folks. Real estate was beginning to boom here so Ann decided this might be the next logical step in her journey. And so it was. She went to work for a real estate firm close to home so that she could be close by if/when she was needed by her elderly stepmother.
When her stepmother passed eight years later, Ann decided it's time to advance on to an office on Venice Island and moved on with her life. She is a firm believer in giving back and has been volunteering for several organizations since she moved here. She also sits on several local boards.
Ann became a member of Business & Professional Women Englewood & Venice in 2007. She has co-chaired our annual Passport to the Future Wine Tasting Fundraiser which raises money for our scholarships and she also sits on our Scholarship Committee.
Sponsorships Available on Website or Newsletter
By: Chris Davis
Hi Everyone.
This is a reminder that the Sponsorship Committee will be contacting members and nonmembers to get sponsorship advertisements.
We will be calling each member and if you do not have a business to advertise, please see if there is someone you know that could participate. We need everyone to help make this fundraiser a success.
We have two members who are sponsors with ads already.
$75.00 for newsletter or website or $150 for both.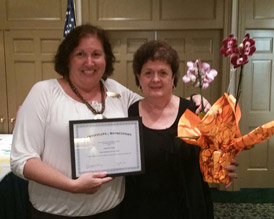 At the October 16, 2014 meeting the Business and Professional Women of Englewood and Venice presented the Woman of the Year Award to one their members. This year the recipient is Jennifer Perry who joined BPWEV in 2008 and has served as treasurer and finance chair for several years. Jennifer is well known in the community. She manages the Elsie Quirk Public Library, writes a weekly column for the Sun Herald Newspaper, deeply cares about our community and is always willing to help. Congratulations, Jennifer!
Welcome to Our New Member: Tamra Weber
At the October 16, 2014 meeting the Business and Professional Women of Englewood and Venice welcomed newly installed member Tamra Weber.
Tamra has more than 20 years experience in the financial industry and was recently promoted to the Retail Banking Office, as Branch Manager of Englewood Bank's main office. Tamra also served as treasurer and as president to the Placida Rotary Club. She has volunteered with the March of Dimes, Englewood Chamber of Commerce and Englewood Area Cancer Foundation.
New Members Inducted February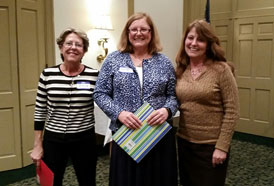 Maryann Terry had the pleasure of inducting two new members, Joce Thompson and Sherrie Girten, to the Business and Professional Women of Englewood/Venice on February 19, 2015.
Welcome Joce and Sherry!