Erin Silk - Speaker on June 20, 2017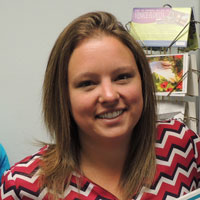 Originally from Columbia, MD. Erin graduated from Towson University with a bachelors in business management. Her Grandparents moved to Venice 20 years ago. Her great-grandmother lived in Sarasota. Erin is fourth generation to start life in the Northeast and move to Sarasota County. "My family loves Venice and Sarasota, moving here was a natural decision," said Erin. Now a resident of Venice for two years and a half years as CEO of Venice MainStreet, Inc.
Since 1988 Venice MainStreet, Inc has operated as a volunteer driven, 501(c)3 non-profit dedicated to enhancing the quality of life in our community by preserving, protecting, and promoting historic downtown Venice.
2017 Scholarship Recipients
The Scholarship Committee, Carol Kouba, Ann Wacholder and Karin Drury, met on May 22, 2017. BPWEV received 17 scholarship applications, definitely an increase in applicants compared to the last few years.
The lucky recipients this year are: Elizabeth Capell Wright (2nd time), Nathalie A. Barr and Frances E. McHale. You will meet them at the June 20 or July 18 dinner meeting. Please join the Scholarship Committee in helping to welcome them.
All of the BPWEV members, but especially the Wine Tasting Committee, worked hard to procure the funds that allow us to pay for three $1,000.00 scholarships each year. As demonstrated this year by the amount of applications received, the need for Adult Learner Scholarships is great. It would be wonderful, if in the future, BPWEV could award more scholarships. Reading their essays, as well as the letters of recommendation, sending Letters of regret to the majority of the applicants, is always sad.
Who will join me this year in paying for the dinners of the awardees? In the past many generous BPWEV members have volunteered to pay for the dinners, so that the BPWEV budget is not stretched too far.
Thank you all for making this important project of BPWEV possible! Mark your calendars for October 13, 2017, for the next Wine Tasting at the Venice Art Center.
Karin M. Drury
Scholarship Chair