Kathy Castellano - Speaker on November 20, 2018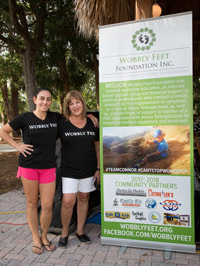 l to r: Samantha Dzembo, mother of Connor and daughter of Kathy Castellano
Longtime Business and Professional Women of Englewood and Venice (BPWEV) member, Kathy Castellano, will be the speaker at the November 20, 2018 BPWEV dinner meeting to be held at the Left Coast Seafood Restaurant in Venice.
Ms. Castellano will be presenting a program about the Wobbly Feet Foundation, Inc. The subject matter is dear to her heart and to her whole family. Her grandson, Connor, at age 3 was diagnosed with Ataxia Telangiectasia, a rare disease commonly called Wobbly Feet syndrome.
In 2009 the parents established the Wobbly Feet Foundation to raise awareness and help fund the needed medical research towards finding a treatment and/or a cure and help those already afflicted with the disease. The public is invited to join BPWEV for this inspiring and informative presentation.
Women Helping Women 2018
Karin M. Drury
The Holiday Season is approaching rapidly, stores are more crowded and the traffic is increasing. So is the urgency to help the single mothers in our community that are struggling to provide basic needs for their families.
As in the past BPWEV will help several families with clothing and food donations for Christmas. The Salvation Army in Venice will provide us again with the first names of 3 single mothers and the wish list for their children. After shopping for the items needed the funds left will be donated to Englewood Helping Hand, Inc. to buy food for their pantry.
For many years our Women Helping Women Project has been BPWEV's special endeavor for the Holiday Season to help disadvantaged single mothers in our community. Please help us to continue this tradition. At the November and December
Meeting I will pass an envelope around for your donations. If you wish to pay by check, please make it out to Karin Drury but add in the memofield Donation to BPWEV/WHW project.
Your help will brighten the Holidays for many families!
Thank you for your generosity!
Hats Off to Women Workshop
On December 8th BPWEV is holding an all day HATS OFF TO WOMEN WORKSHOP at the Venice Area Chamber of Commerce (575 Tamiami Trail, on the island across from the hospital). Please support this event by attending and/or sponsoring.
The cost of attending is only $30, which includes breakfast, lunch and six different speakers on topics of interest to women.
Here is the list of topics and speakers:
Communicating with Confidence - Dorothy Korszen
Preventing Scams and Identity Theft - Mark Rizzo
Normal Memory & Aging - Kathleen Houseweart
Dealing with Challenging People - MK Mueller
Self Defense for Women - Kairee Haley
Promoting Equal Rights, Equal Pay and Equal Opportunity - Cyndi Fredricks
To access the flier please click here. If you are interested in sponsoring this event, the details can be found in the vendor form click here.
Seating is limited so be sure to register early. You can register by mailing your check to BPWEV PO Box 611, Englewood 34295 or by giving payment to Esther Bird. Call Esther with any questions - 315-440-6814.
We need your support. Please tell others about the event and invited friends to attend with you. We know you will enjoy the event and be glad you attended.
Esther Bird, 2nd Vice President
Wine Tasting Sponsors and BPWEV Family and Friends - Thank You!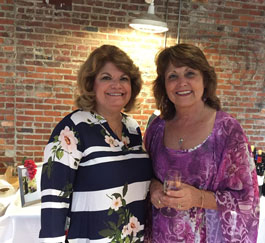 Morina Chmielak and MaryAnn Terry Co-chairs Wine Tasting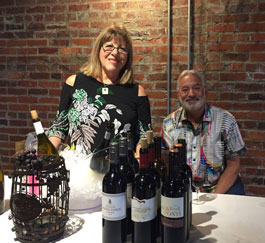 Kudos also to Kathy Castellano and her husband Blaise helping at the wine bar!
The BPWEV wine tasting fundraiser was held on Friday, October 26 at the Venice Train Depo.
Special thank you to our sponsors:

Castle Air
Eyes on You
Barbara King
Peach's Restaurant
Professional Travel Services
Quick Signs
Venice Gondolier
Ann Wacholder
Food platters were donated by:

Aston Gardens
Café Venice and many BPWEV members.
In kind sponsors included Maryann Terry and Morina Chmielak.
Due to the generosity of those who attended, BPW raised enough funds to award scholarships in 2019.
Morina Chmielak and Maryann Terry
November 2018 President's Message - Speak Kindly
Kind Words can be short and easy to speak but their echos are truly endless is a quote from Mother Teresa, a woman who was the epitome of kindness.
Some helpful tips to remember when speaking to others is first of all to Think about what we are saying and asking yourself if what we are saying is True and is it Helpful.
Are we Inspiring others and are we being Kind? Is what is said really Necessary?