Jimmy Dean - Speaker on June 16, 2015
Jimmy Dean is the former publisher of SARASOTA and GULFSHORE LIFE Magazines and has lived in and helped chronicle this area of the Gulf coast for almost 40 years. Born and raised in North Carolina, he began coming to Florida regularly as a child, eventually relocating here at age 27 following "one hell of a good run" in broadcasting. In the late 70's he lived next door to Artist Syd Solomon and his wife Annie on Siesta Key and at one point he self-proclaimed himself to be "Mayor" of Turtle Beach. He and his wife, Paige just celebrated their 20th Anniversary and have four beautiful and talented children. He sold his interest in the SARASOTA Magazine group eleven years ago, and when an attempt at retirement failed (Paige couldn't handle FIVE children around the house), Jimmy purchased HARBOR STYLE in partnership with the SUN newspapers. The magazine just celebrated its tenth anniversary and has now become a staple of the community.
News from the Scholarship Committee
By: Karin Drury
The Scholarship Committee met on May 20, 2015. We received 11 applications. Unfortunately 4 had to be rejected due to the fact that all instructions included with the application were not followed correctly.
The Committee is happy to announce that the 3 finalist, Ashley Koch, Deva Ballentine and Jolyn Miller are excellent candidates for our scholarships. All 3 are single mothers and are presently enrolled in college. You will have the opportunity to congratulate them at the June BPWEV meeting. They will be presenting a brief introductory speech about themselves and how a BPWEV scholarship can help them.
Thank you all for working so hard and with dedication to procure the funds for our Adult Learner Scholarships through various fund raisers, especially the wine tasting event. A $1,000.00 check for each recipient will be sent directly to the college they are attending.
The Scholarship Committee: Carol Kouba, Ann Wacholder, Tamara Weber,
Karin Drury, Chair
Sponsorships Available on Website or Newsletter
By: Chris Davis
Hi Everyone.
This is a reminder that the Sponsorship Committee will be contacting members and nonmembers to get sponsorship advertisements.
We will be calling each member and if you do not have a business to advertise, please see if there is someone you know that could participate. We need everyone to help make this fundraiser a success.
We have two members who are sponsors with ads already.
$75.00 for newsletter or website or $150 for both.
Welcome to Our New Members in May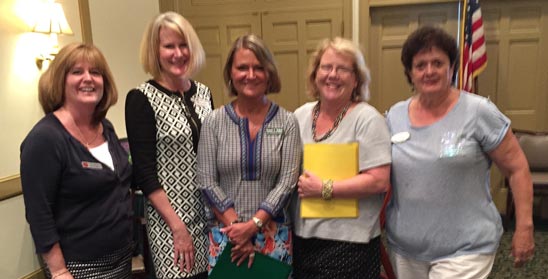 At the May 21, 2015 Business and Professional Women of Englewood and Venice (BPWEV) meeting, 4 new members were inducted by 2nd Vice President Rita Bertler.
With a welcoming round of applause Brandreth Blow, Terri Griffith, Karen Baker and Katie Malloy were gladly received into the BPWEV sisterhood and encouraged to embrace the mission of the organization "To Achieve Equity for all Women through Advocacy, Education and Information".
Last Month's Speaker
William Dahms presented an educational program entitled "Women and Gun Safety" at the Business and Professional Women of Englewood and Venice (BPWEV) meeting in May, followed by a Q & A session. The membership and guests received great advise on gun safety and where to go to learn how to handle a fire arm safely.
The next BPWEV will be held at the Plantation Golf and Country Club June 16, 2015. For information please call: Chris Davis at 941-473-4759 or click here.
Membership Spotlight: Karen Baker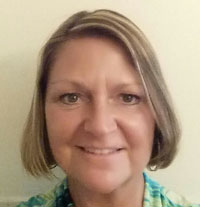 My name is Karen Baker and I'm from Kokomo, Indiana. I received a Bachelor's Degree from Purdue University in 1990, with a major in Consumer Financial Counseling and Planning. I've been in Florida since 1998, living most of that time in Venice.
I am the owner of K2 Insurance, PLLC, specializing in Medicare, Life Insurance, Long Term Care Insurance, Supplemental Insurance, and Annuities. I work with several different insurance carriers to meet the various needs of my clients. I strive to offer the best personal service and build solid relationships with my clients. I have been in the Financial Services industry for over 25 years.
I am very active in the Venice Area Chamber of Commerce, including the Member Events Committee, and am in the process of joining the Sertoma Club of Venice. I decided to join BWPEV because I always enjoy connecting with other professional women, and making new friends in the process.
I like to spend my free time, when I have any, watching old movies, reading, working out, fixing up my house, and playing with my dog, Miss Daisy. I also sponsor a beautiful little girl from Dominican Republic named Diosa through a children's organization and enjoy receiving letters from her and pictures that she has drawn for me. I hope to be able to visit her next year. She recently wrote to me and told me she would like to sing and dance for me. I can't wait!