Tina M. Marrelli, MSN, MA, RN, FAAN - Speaker on February 20, 2018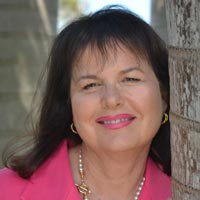 Tina is the author of 13 health care books. Some of these books include the Handbook of Home Health Standards, the Nurse Manager's Survival Guide and the Hospice and Palliative Care Handbook.
Tina received her BSN degree from Duke University and also has master's degrees in health administration and in nursing. Tina has been the editor of three peer-reviewed publications and is an Editor Emeritus for the journal Home HealthCare Now. Tina has practiced as visiting nurses in home care and hospice for many years and still makes home visits as a consultant.
Tina is the President of Marrelli and Associates, Inc. a consulting and publishing firm working in health care for 20 years. Tina is also the Chief Clinical Officer of e-Caregiving Solutions, a web-based education and support system for family and friend caregivers. Tina's newest contribution to health care and patient safety is her new book entitled, A Guide for Caregiving: What's Next? Planning for Safety, Quality, and Compassionate Care for Your Loved One and Yourself.
Books will be available for purchase for attendees for $20.00 with $5.00 donation back to BPWEV ($24.95 regular price).
Christine Davis Memorial Scholarships
Karin M. Drury, Scholarship Chair
As of January 15, 2018 the applications and instructions for our $ 1,000.00 Adult Learner Scholarships will be available on the BPWEV website - www.bpwev.org
Please help spread the word at your place of work. It will also be available on the SCF website and other colleges. Articles to apply will also be published in the local newspapers.
It's easy to apply. Any female Adult Learner who is presently enrolled or has been accepted at a college, university, technical or vocational school can apply. We also encourage female veterans or spouses of veterans to apply. The applicant has to live in either Sarasota or Charlotte County. The scholarship money will be sent to the appropriate college/school, not to the applicant.
The scholarship committee presently has 3 members. They are Ann Wacholder, Carol Kouba and Karin Drury. We encourage our new members to serve on the committee which usually meets in May after all applications have been received. The deadline for the applications is April 30, 2018.
Fundraising Luncheon
Morina Chmielak
January 27, 2018 - 1:00 pm
$25.00 per person
At the home of Morina and Jim Chmielak
4382 Via Del Villetti Dr. Venice, FL 34293
Phone: 941 497-1133
Join your BPWEV sisters and friends for an afternoon filled with great food, good friends and lots of laughter. What a wonderful way to get to know each other better and for others to learn about BPWEV.
Morina and a few of her friends will cook a delicious lunch for everyone, all you have to do is attend - bring your spouse and a couple of your friends along!
Food will be donated by Morina and Jim, the cost of the lunch will go back to BPWEV. Hope you can all make it, and don't forget to bring guests along! Kindly make checks payable to BPWEV, mail to Morina Chmielak and indicate "luncheon" in the memo line.
Women Helping Women 2017 - December
2017 presented a new challenge for BPWEV. The Salvation Army provided us with the names of 8 children whose 3 single mothers needed our help to provide a merry Christmas for their families. You rose to the challenge and I collected a total of $607.00. That was enough money to buy clothes, bedding and one wished for toy for each child. Some BPWEV sisters also bought clothes and bedding for the children. Thank you, thank you!
Your donations of food for the Helping Hands Food Bank in Englewood was also very generous and much appreciated by the Food Bank. Not only did you donate enough dollars to buy everything for the 8 children, but there was enough money left to write a check of $100.00 for Helping Hands.
Your kindness and generosity is much appreciated. May you all have a happy, healthy and blessed 2018.
Thank you all!
Karin M. Drury