New Member Inductions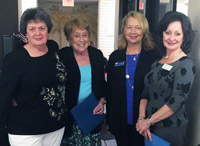 At the January 19, 2016 meeting Rita Bertler, 2nd Vice President of the Business and Professional Women of Englewood and Venice (BPWEV) welcomed 3 new members, Barbara Trela, Phyllis Nolan and Arlene Dodd to the organization after the induction ceremony.
Women of the Year 2015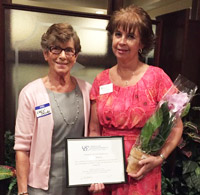 On November 17, 2015 the Business and Professional Women of Englewood and Venice (BPWEV) presented their annual Woman of the Year Award to Irene Slattery of Englewood. Irene has been a member of BPWEV for 19 years, served as treasurer for 2 years as well as chaired many important committees. Irene will help wherever help is needed. Volunteering is second nature to her! A familiar face in the local banking industry for 30 years, she presently works as VP and Office Manger at the Englewood Stonegate Bank Branch. Her many other accomplishments include (just to name a few) serving on the Board as Vice President of the Lemon Bay Conservancy, Dollars for Mammogram, Inc., and the Englewood Chamber of Commerce, a member since 1995. The Chamber honored her with the President's Award and the Spirit Award in 2012. Irene enjoys golfing with her husband, Gene, and has fun with their 5 grandchildren who live in the area.
BPWEV is proud to present the Woman of the Year Award to such an accomplished woman, who is a leader in our community and much appreciated!
Supporting Dollars for Mammograms, Inc.
At the BPWEV Holiday Party on Dec. 15, 2015, President Maryann Terry presented a check for $250.00 to DFM, Inc. Board Member Carol Kouba.
DFM was started in 1999 by BPWEV Members. It has grown tremendously, and now is available in Sarasota and Charlotte Counties, providing no-cost mammograms to women who do not have insurance. Rita Bertler, President of DFM for the last 10 years, and her hardworking board members are to be congratulated on running such a successful program. In spite of the Affordable Care Act, many women in our community still are uninsured and rely on DFM to pay for the service they need.
To learn more about Dollars for Mammograms, visit www.dollarsformammograms.org.
Women Helping Women Nov 2015
By: Karin Drury
Each year I'm amazed at your wonderful generosity when I pass the envelope around for our Women Helping Women Project.
At the November 17 meeting your donated $200.00! This money was used to provide needed clothes and 1 toy for 3 children of single mom families in our community. The Salvation Army, as in the past years, provided us with the names of the children and what they needed. A trip to Wal-Mart and one morning's time successfully completed this project. I had my calculator with me and spent exactly $200.00. Not having grandchildren of our own, this always is a lesson for me in what's new in the toy world.
At the fantastic Christmas Dinner hosted by our gracious member, Kathy Castellano and her husband Blaise, $175.00 was raised. This money was presented to Helping Hand Food Bank in Englewood where it will go far buying cases of food for needy families in our community.
Happy New Year and thank you for remembering the less fortunate in our community.
Scholarship Announcement 2016
Happy New Year to all of you! Starting January 4, 2016 our Scholarship Applications and Instructions will be available in our Scholarships section.

As you all know, this is one of our major BPWEV programs, made so successful by the hard work of the Wine Tasting Committee and all members who support it. We raised enough money to at least fund three $1,000.00 scholarships in 2016, maybe more?

The deadline for mailing the applications is on April 30, 2016. Please spread the word at your place of business or organization that you support. The scholarship program will be advertised in the local newspapers, as well as on the websites of the local colleges and vocational training centers. It's easy to access our website: www.bpwev.org

Thanks for supporting this program in the past. Your hard work and caring make it possible for Adult Learners in our communities to advance their education and get a chance to earn a decent salary after completion to support their families. Our support is aimed at single moms and female military vets or wives of military vets.

Thanks,
Karin Drury, Scholarship Chair
2016 BPW Adult Learner Scholarships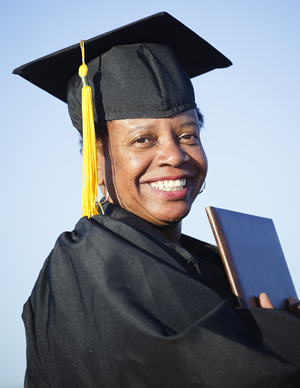 The Business and Professional Women of Englewood and Venice are accepting applications through April 30, 2016 for three $1000 adult learner scholarships for the 2016-2017 academic years.
The BPW Scholarships focus completely on the adult learner. You will note from this website that BPWEV is engaged in the national program "Joining Forces for Women Veterans and Military Spouses". One goal is to help these women in completing advanced education or training.
Please review the Scholarship Information, and follow the directions for submitting your application: