BPW Florida States President Visits Englewood
At the March 19, 2016 dinner meeting the Business and Professional Women of Englewood and Venice (BPWEV) the BPW State President, Christy Crump, honored the club with her visit. Ms. Crump a member of the Tallahassee BPW Club, talked about the upcoming BPW State Convention to be help in St. Petersburg in June 2016. She is an enthusiastic promoter of FLBPW and its Mission: "To achieve equity for all women through Advocacy, Education and Information."
BPWEV also elected the new 2016/2017 Board to be installed at the April 19, 2016 meeting to be held at their new location, the Englewood Elks Club. Vanessa Smith will serve as the new President, Joyce McCaffrey and Katie Malloy will share the role of 1st Vice President, so will Phyllis Nolan and Judy Braham as 2nd Vice President. Sherrie Girten and Tamra Britton will share the Secretary position, Heather LaBeau will continue as Treasurer.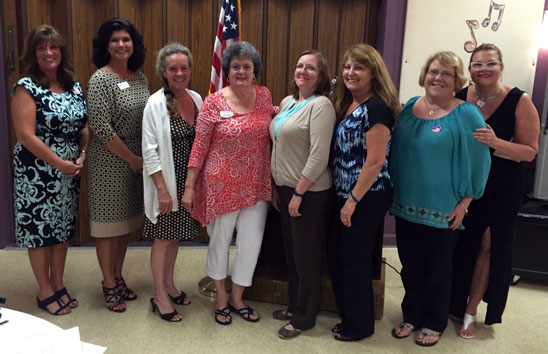 left to right: Tamra Britton, Christy Crump - Florida State BPW President, Vanessa Smith, Rita Bertler, Heather LaBeau, Maryann Terry, Katie Malloy, Joyce McCaffrey
Maryann Terry served 3 years as President, Rita Bertler 2 years as 2nd Vice President. The BPWEV members are grateful to both of them for the excellent work they did for BPWEV.
New Member Induction March 2016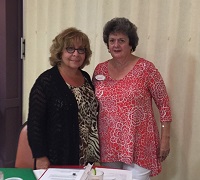 Rita Bertler, 2nd Vice President of Business and Professional Women of Englewood and Venice (BPWEV) congratulates Linda Wolfe who was inducted as a new member on March 13, 2016 at the dinner meeting at the Englewood Elks Club.
New Member Inductions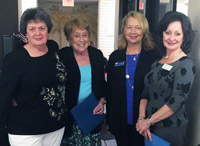 At the January 19, 2016 meeting Rita Bertler, 2nd Vice President of the Business and Professional Women of Englewood and Venice (BPWEV) welcomed 3 new members, Barbara Trela, Phyllis Nolan and Arlene Dodd to the organization after the induction ceremony.
Letter from Brittany Morgan - Scholarship Recipient
I am writing to you as a graduate of the Florida State University, something that would not be possible without the contributions of this organization. I graduated from FSU on May 1, 2015, with a Bachelor of Science in Computational Science and minor in Mathematics with Summa Cum Laude distinction. My final GPA was a 3.9 and I was lucky enough to graduate debt free. I was incredibly honored to walk across the stage in the Tallahassee Civic Center to receive my diploma. I reminisced back to senior year of high school when I applied to scholarship after scholarship and wrote essay after essay, all to make my dream of attending college come true. Now, as an alumna of Florida State, I will wish to thank you for your part in my achievement.
In high school, I could have never predicted the future life that I am currently living now. I thank you for trusting in me four years ago and giving me the chance to attend a University that I otherwise had no personal funds to afford. With the financial support of my company, I plan to apply for a Master's program in Data Science or Applied Math in the fall, further enhancing my education. I am truly grateful to be where I am today.
Sincerely,
Brittany Morgan
2016 BPW Adult Learner Scholarships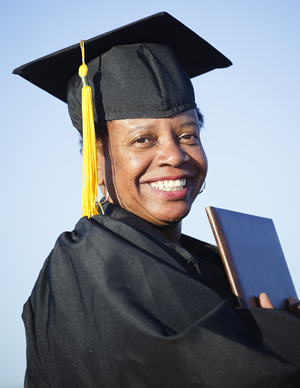 The Business and Professional Women of Englewood and Venice are accepting applications through April 30, 2016 for three $1000 adult learner scholarships for the 2016-2017 academic years.
The BPW Scholarships focus completely on the adult learner. You will note from this website that BPWEV is engaged in the national program "Joining Forces for Women Veterans and Military Spouses". One goal is to help these women in completing advanced education or training.
Please review the Scholarship Information, and follow the directions for submitting your application: