Women Helping Women 2017
Karin Drury, Public Relations
Thank you for your generous donation to WHW at the November 21, 17 meeting. The total amount collected that night amounted to $305.00 This year we actually have more children than ever before. The Salvation Army selected 3 single mothers with a total of 8 children. The all need clothing, 4 need twin bed sets and a wish for one gift.
Your bountiful food donation for Helping Hands in Englewood was much appreciated by that local charity. Please bring more at the Christmas Party on December 19, 17 as the food bank is always in great need. Thank you all for sharing the contents of your pantry!
At the December meeting I'll pass the envelope around one more time to cover the costs of all the items purchased for the 8 children. Some of our very magnanimous members went shopping for clothes and shoes and sheets to help with the project. Thank you so very much!
As of this date (Nov. 30) all the purchases have been made. I ordered the toys on Amazon on Black Friday and received great discounts, free shipping and no state sales tax.
Members ask me how they can help. At this point monetary contributions would be most helpful. If you pay by check, please make it out to BPWEV and write WHW in memo field. You can mail them to my address: Karin Drury, 64 Windsor Dr, Englewood, FL 34223
Your generous contributions to this important BPWEV program is very much appreciated!
Gratefully,
Karin Drury WHW 2017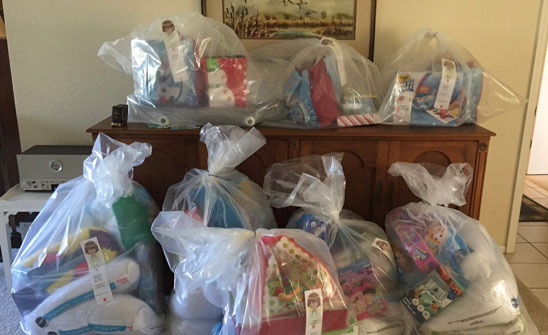 New Member Induction - Marie Rust
Karin Drury
Mary Rust received a warm welcome from the ladies of the Business and Professional Women Englewood/Venice (BPWEV), when she was inducted into the organization at the November 21, 17 meeting. Ms. Rust had been an active member in the past for many years, it's wonderful to have her rejoin the BPWEV sisters.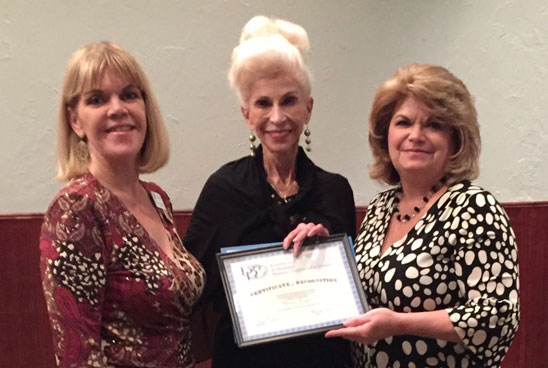 Judy Braham, BPWEV President; Marie Rust, Morina Chmielak, 2nd Vice President
Fundraising Luncheon
Morina Chmielak
January 27, 2018 - 1:00 pm
$25.00 per person
At the home of Morina and Jim Chmielak
4382 Via Del Villetti Dr. Venice, FL 34293
Phone: 941 497-1133
Join your BPWEV sisters and friends for an afternoon filled with great food, good friends and lots of laughter. What a wonderful way to get to know each other better and for others to learn about BPWEV.
Morina and a few of her friends will cook a delicious lunch for everyone, all you have to do is attend - bring your spouse and a couple of your friends along!
Food will be donated by Morina and Jim, the cost of the lunch will go back to BPWEV. Hope you can all make it, and don't forget to bring guests along! Kindly make checks payable to BPWEV, mail to Morina Chmielak and indicate "luncheon" in the memo line.
Member Spotlight - Esther Bird
Morina Chmielak, Membership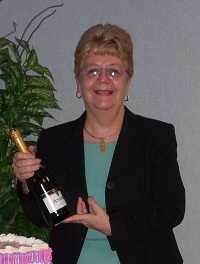 Esther is originally from Central New York and moved to Florida with her husband Bill in 1995. The cold, snowy and dreary winters motivated the move and they purchased their Venice home a year later after they fell in love with the community. Esther and Bill will celebrate their 25th wedding anniversary next summer.
Before moving to Florida, Esther was the sales manager for a library supply company. She worked in the trust and investment division of Bank of America for 14 years. After leaving that position, she was the event and marketing coordinator for the United Way of South Sarasota County. She is currently employed at the Venice Friendship Center . She started as a volunteer and was hired as soon as the funding was obtained. Esther says, "I love working at the Friendship Center. It's a fun place for seniors (age 50+) to go to have fun and meet others in their age group."
Esther has been a volunteer with Literacy Volunteers of South Sarasota County for 15 years. She serves on the board of directors, is coordinator for the literacy speakers bureau, and also provides a free two day class for new volunteer tutors about five times a year. She has been doing this training for the past six years.
The mission of BPW speaks to Esther's heart. She is an avid supporter of women and whole-heartedly believes in Women Helping Women.
The "Christine Davis Memorial Scholarships"
At their monthly dinner meeting on Tuesday, September 19, 2017, the Business Women of Englewood and Venice (BPWEV) unanimously voted to dedicate their scholarship fund to the memory of Christine Davis. The Adult Learner Scholarships will henceforth be known as the "Christine Davis Memorial Scholarships". This will honor Christine, who passed away in August 2017, and will make sure that BPWEV will always remember this amazing lady. She was a BPW member for over 50 years, first in New York State and later in Florida. Her endless energies to promote BPW was astounding. She served in every office the organization had to offer, short of State and National President. She served on many committees and especially enjoyed being chair of the scholarship committee till ill health required her to resign from too many obligations. Her beautiful smile, her eagerness to be always willing to help and her efficient handling of any task she elected to do or help with, will not be forgotten by the BPWEV members, but will be missed. The "Christine Davis Memorial Scholarships" will preserve the love and devotion she championed to achieve equity for all women through advocacy, education and information.