2015 Wine Tasting Review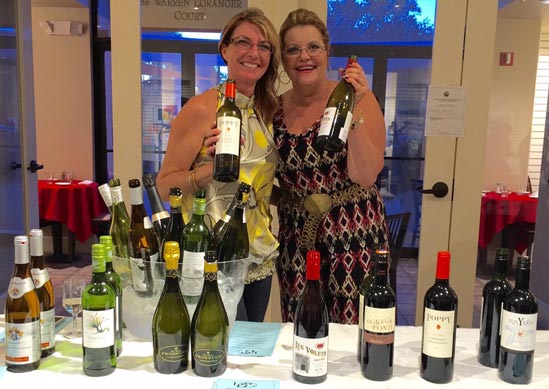 The Business and Professional Women of Englewood and Venice (BPWEV) 7th Wine Tasting/Auction event held at the Venice Art Center on October 23, 2015 was a well attended, fun filled event. BPWEV thanks the generous sponsors, Castle Air, Dick and Rita Bertler, Farr & Farr Law Firm, Ann Wacholder, Eyes on You, Village on the Isles, Englewood Bank and Trust, Venice Art Center and the Venice Gondolier, who helped make this evening a success. The bountiful food was donated by the following Venice restaurants: Aston Gardens, Café Venice, Allegro Bistro, Thai Spice, Flynn's Venice Ave, Obee's on the Island, Bentley's Ice Cream and Blu Café. BPWEV is very grateful for their delicious contributions. Joyce McCaffrey and Ann Wacholder chaired this event with the help of all BPWEV members who sold tickets, contributed items for the auction to help achieve the goal: fund Adult Learner Scholarships in 2016 and promote BPWEV.
Julie Starbuck - Speaker on November 17, 2015
Julie Starbuck is a former litigation attorney, and is now the Broker/Owner of Florida Shores Real Estate, P.A. She is very active in the community, and is upcoming 2016 President of the Englewood Area Board of Realtors.
She is the mother of three grown children. Two in college and a disabled son who resides at home. She has and continues to be an advocate for children and adults with disabilities, and is a Project Life Saver coordinator. She also is a Citizen Emergency Response Team (CERT) qualified provider for Charlotte County.
Fall Conference, Lobby Days, and the Education Foundation's 50th Anniversary Celebration
We are joining together for three exciting events at one time, November 15-18, in Tallahassee. This year, we're trying something new. A bigger legislative impact can be made during legislative committee week rather than waiting for legislative session in the spring.
Our fall conference will include a day of professional development to gain confidence in presenting yourself and what BPW has to offer workingwomen like you, as well as how to conversate with legislators. You'll also gain knowledge and understanding of BPW/FL's legislative agenda as well as insights into how to present our issues to the legislators. We will enjoy legislative visits in the Capitol for two days arranged by state Legislative chair Jerri Evans and BPW/FL lobbyist Stephanie Kunkel.
In addition, while in Tallahassee, the BPW/FL Education Foundation will celebrate its 50th anniversary. We have a huge event planned at the Florida State University BPW Scholarship House. An invitation for the anniversary celebration will come under separate email.
10 Women Who Belong on the $10 Bill
To commemorate 100 years since the passage of the 19th amendment, the U.S. Treasury has announced it will put a woman on the $10 bill in 2020. The Treasury called on Americans to submit their proposals for the redesigned $10, inspiring a widespread discussion about the role of women in US history. The American Association of University Women conducted a poll and here are the five favorites:
Barbara McClintock, a pioneer in genetics, became the first woman to win an unshared Nobel prize for physiology and medicine in 1983.
Eleanor Roosevelt transcended her role as First Lady through her work as a global activist.
Harriet Tubman escaped from slavery herself, led hundreds of slaves to the North through the secret network of the Underground Railroad.
Rosa Parks celebrated for her refusal to move to the back of a segregated bus, an action that catalyzed the Montgomery bus boycott in 1955.
Susan B. Anthony campaigned tirelessly for women's voting rights but unfortunately she did not live to see the ratification of the 19th amendment in 1920.
Runnerups were Azie Taylor Morton, the only African American to hold the post of US Treasurer, Clara Barton founder of the American Red Cross in 1881, Elizabeth Cady Stanton, suffragist, Elizabeth Peratrovich, Alaska Native civil rights activist and Mary Church Terrell, founder of the NAACP.
Marie Rust
More than a Fashion Statement
Why it's important to protect your eyes
Proper eye wear can protect your eyes from damaging UV rays. When you head outdoors, don't forget about the importance pf protecting your eyes from the sun. Your eyes need protection, and now everyone can enjoy the sun in style whether or not you wear prescription glasses.
Unfortunately many people don't recognize the harm the sun can have on your vision, but the effects are very apparent. Short term exposure to the sun can burn the surface of the eye, just like a sunburn on the skin. Such burns can even come off the reflection of snow and the pavement. Over time, UV rays are known to contribute to cataracts, ptergium(an abnormal growth in the corner of the eye that can block vision), age related macular degeneration and skin cancer around the eyelids. Proper sunglasses can help prevent these conditions. When looking for eye protection, make sure the lenses block 99-100% of the UVA and UVB rays. A polarized lense is the best protection from the sun. Also wraparound sunglasses can give great protection. Prescription lenses can be treated with UV coating, and also available are photochromic lenses like Transitions that change from light to dark.
For any other questions seek a Licensed Optician to look and see your best.
Submitted by
Joyce McCaffrey, LDO
Licensed Dispensing Optician
Woman of Year to be announced November 17th
Our nominees for this year's Woman of the Year are:
Irene Slattery

I am from Westchester County, New York, but have been a SW Florida resident for 36 years, since moving to Englewood in 1979. I obtained my Associates Degree in Business Administration from S.U.N.Y. Cobleskill and have held a current Real Estate Salesperson's license since 1990.
Joyce McCaffrey, LDO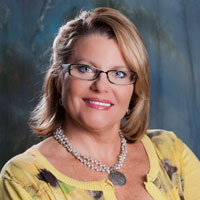 Joyce McCaffrey, LDO and owner of Eyes on You offers unique eyewear and intimate apparel in her Island Boutique. She has been wowing Venice area customers with her unique style and expertise in choosing the perfect eyewear for the past several years.