Chris Crites - Speaker on June 19, 2018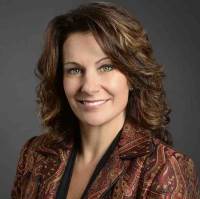 Chris Crites moved to Venice FL in 1997. She is originally from Oklahoma, attended college at the University of Central Oklahoma where she got her degree in business and met her husband of 25 years, Mark.

Chris started her career at Edward Jones in 2000 and now manages over 250 million in assets, taking care of their clients wealth, need for income, and helping families plan for the unexpected as well as preparing for their retirement, estate planning, and philanthropic desires.

Edward Jones has over 16,000 Financial Advisors nationwide and approximately 25% are women. Earlier this year Chris was honored to be in the top 250 female financial advisors in the firm.

Chris and Mark have two children, 22 year old Madi is attending University of Central Florida and 20 year old James is attending Florida Gulf Coast University.

Chris will be discussing how the current market conditions and rising interest rate environment can effect you and your portfolio.
June 2018 President's Message
Accepting Others
The first step in accepting others is to not judge them. Many times we judge others by the way they dress or they way they speak without even realizing it. We put them in an undesirable category many times because of these superficial characteristics. Be nonjudgmental and more accepting of them as an individual from a different culture and even when their attire is not the same as ours or they may have an accent perhaps from the Southern United States or Northern Ireland.
Try to be positive realizing their ways although different from our way is not necessarily wrong, but perhaps just a different method in arriving at the same end. Just because it is not "Our Way" does not mean it is not a valid method of arriving at the "Desirable Way" in the end.
Stop judging oneself and thereby relieving yourself and others around you from stress. Not judging yourself or others is a crucial step to acceptance. Developing a sense of self worth will help one to focus on the present and avoid thinking of the past with unpleasant and undesirable thoughts. Live in the now and do not dwell on the past nor should you be concerned entirely with the future. Live in the current and you will find acceptance within yourself. If you reverse the situation and ask yourself what if someone judges me and would not accept me. How would I feel under those circumstances? Live your life accepting others as they are beginning with acceptance of oneself having a positive attitude and focusing on the present.
Syd Gibson
2018 Scholarship Recipients
The Scholarship Committee, Carol Kouba, Esther Bird and Karin Drury, met on May 30, 2018.
BPWEV received 14 scholarship applications. The lucky recipients this year are: Nathalie Barr (2nd time), Cynthia Kenner-Brower and Rhonda Robinson. You will meet them at the June 19 or July 17 dinner meeting.
Please join the scholarship committee in helping to welcome them. All of the BPWEV members, but especially the Wine Tasting Committee, worked hard to procure the funds that allow us topay for three $1,000.00 scholarships each year.
As demonstrated this year by the amount of applications received, the need for Adult Learner Scholarships is great. It would be wonderful, if in the future, BPWEV could award more scholarships. Reading their essays, as well as the letters of recommendation, sending Letters of Regret to the majority of the applicants, is always
sad.
Who will join me this year in paying for the dinners of the awardees? In the past many
generous BPWEV members have volunteered to pay for the dinners, so that the BPWEV budget is not stretched too far.
Thank you all for making this important project of BPWEV possible!
Karin M. Drury
Scholarship Chair
Women and Memorial Day
Beginning with the American Revolution and continuing to the present, women have always volunteered in defense of our nation. Many of their contributions have been forgotten and are not recorded in today's history books. The Women's Memorial at Arlington Cemetery is changing this omission through a massive oral history and research project. Foundation Office of History & Collections collect official and personal records, oral histories, photographs, and other memorabilia to help portray women's record of service and citizenship. Growing collections include a library of nearly 1,000 books by and about military women, photograph and document archives, personal and military-issue artifacts, memoirs and oral histories.
These considerable resources serve as a leading educational resource on Women in US Military History.
Over 24,000 women served in World War I half of whom were nurses in the Navy, Army, and Red Cross. From 1942-1945, while men fought in the battlefront of World War II, over 18 million women filled the civilian and defense positions created is the country's shift to wartime productions.
Memorial Day 2018 falls on May 28th.