Dorothy Korszen, Farr Law Firm - Speaker on October 16, 2018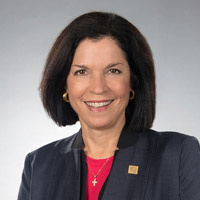 Dorothy is a partner at the Farr Law Firm which has offices in Punta Gorda, Venice and Sarasota. Her practice focuses on trusts and estates, real estate, and business and corporate law. She works with clients in preparing wills, trusts, and other estate planning documents. Dorothy makes recommendations and implements strategies based on her review of the client's assets, circumstances and personal desires. She counsels clients on the probate process and the administration of assets upon one's death. Prior to joining the firm in 2003, Dorothy practiced law in both Miami and Milwaukee.
Dorothy is involved in several non-profits and currently serves as the Vice President of the State College of Florida Foundation and the Treasurer of the SKY Family YMCA. She began running, ahem, several years ago and has run 24 marathons.
10th Annual Wine Tasting and Auction
Come Eat With Us and Support the Cause!
Please join us Thursday, November 8th at Kumo Japanese Steak House 1657 US Highway 41 Bypass 41 in Venice for dinner 6 pm. BPWEV will receive 15% with average meal price of $20. Enjoy a great meal with great company to benefit BPWEV. Contact This email address is being protected from spambots. You need JavaScript enabled to view it. for more information.
Reservation deadline is November 4th at 5 pm.
Thank You to our Wine Tasting Sponsors
There is still time for you or your business to become a BPWEV Wine Tasting Sponsor. Thank you to the following individuals and businesses for their encouragement and support:
Esther Bird
Castle Air
Morina Chmielak – Professional Travel Services
Eyes on You
Barbara King, RE/MAX Alliance Group
Peach's Restaurant
Quick Signs
Venice Gondolier – Media Sponsor
Ann Wacholder, West Coast Realty of Venice, LLC
In-Kind Sponsors:
Morina Chmielak
Maryann Terry
October 2018 President's Message - Keeping Your Cool
Keeping your cool, in Florida even this time of year in the Fall, can be difficult. Although I am referring to the mental ability of maintaining ones's calmness in stressful situations, not physically. Throughout the day, in a working environment, at home caring for children or the elderly or in social situations, it can be a challenge to maintain one's composure. At times, our outward appearance of calmness may totally hide our inner feelings of frustration. Our children sometimes have the ability to ascertain our true feelings as do our other family members and those close to us and may realize it is opportune to rethink the situation and determine the importance of continuing to stand up for their position or may begin to negotiate an agreeable compromise.
There are times when the conversation becomes volatile and the ability to keep your cool is totally out of control. It is at these times, when one must delve deep inside in order to control the situation and maintain an inner peace that may not be understood, but is absolutely necessary. It would be an undesirable situation to lose your cool mentally and physically as well as socially. Control of your inner feelings no matter the time of day nor the person or persons involved must be compromised for one to live a peaceful and also enjoyable life. That does not mean stress will be eliminated, but it must be under control. Keep your cool, even in hot and humid Southwest Florida!
Syd Gibson
New Member Induction
l to r: Esther Bird - 2nd Vice President BPWEV, Dale Block
Welcome to Dale Block, our newest member.
Dale is a educator, consultant, and specialist. She works for Five Rings Financial in Naples, Florida. Five Rings Financial creates opportunities, income, security and wealth to their clients.
BPWEV meets every third Tuesday of each month at the West Coast Seafood Restaurant in Venice. For information: www.bpwev.org
The mission of BPWEV its: to achieve equity for all women through Advocacy, Education and Information.