Sonja Jordan-Mowery - Speaker on August 21, 2018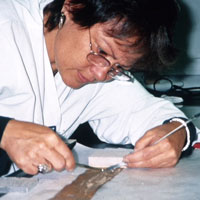 Sonja Jordan-Mowery was born in Budapest, Hungary. Has a M.A. from the University of Chicago in rare books and manuscripts and an M.A. in Philosophy from Southern Methodist University.
She was Head of Special Collections and Conservation at the University of Notre Dame, Notre Dame, IN, and established the first conservation program for the University Libraries.
Sonja continues to write and lecture on matters relating to the conservation of rare books and manuscripts. She has conducted conservation assessments and training in South America, Europe, Asia, and Africa; taught courses in rare books and manuscripts, conservation and preservation at several institutions in Chicago and Baltimore, and in Philadelphia.
Sonja and her husband, Frank Mowery, are the owners of the conservation studio in Venice, Florida, Mowery Book and Paper Conservation. The studio provides a wide range of conservation services including the conservation of rare books, manuscripts, archival documents, maps, works of art on paper, and paintings.
August 2018 President's Message
Today we are inevitably bombarded by sounds whether it is the background noise of city traffic including emergency vehicle sirens or music from the vehicles stopped in traffic next to us or neighbors listening to their televisions or even the birds chirping, the insects buzzing or the dogs barking. It is very seldom that we have silence in our busy lives.

Perhaps we could begin a life of peace and tranquility by simply listening to others. We can take time to hear what is being said when a friend or co-worker is under stress from family, friends or in the work force and asking us for advice. We all too often readily give our opinions without much consideration many times just to hear our own voice speaking. Perhaps the time would be better spent in discovering silence.
Take the time to discover silence and thoughtfulness before offering opinions. We can gain insight into other situations in which people are involved as they are unable to be objective. By listening attentively, we can offer viable solutions since we are not personally involved and are able to be objective.
Let us take time to discover silence in our own lives to not only help others, but to gain an inner peace and calmness within ourselves in the stressfulness and anxiety in our lives.
Syd Gibson
BPWEV Adult Learner Scholarship Awarded

l to r: Esther Bird - Scholarship Committee, Nathalie Barr - Scholarship Recipient, Carol Kouba - Scholarship Committee, Karin Drury - Scholarship Chair
The Business and Professional Women of Englewood and Venice (BPWEV) awarded a third $1,000.00 scholarship to Nathalie Ann Barr. This is the second time Ms. Barr has received this scholarship. In 2 more semesters she will be receiving her BSN degree from SCF where she maintained an outstanding GPA, while working as court reporter and technician at SMH.
She is a single mother with 2 children at home. Her daughter is also pursuing a BSN degree, her son is a senior in HS. Congratulations, Nathalie!

The mission of BPWEV is: To achieve equity for all women through Advocacy, Education and Information.
New Member Induction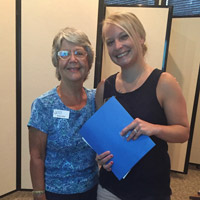 l to r: Esther Bird - 2nd VP and Membership Chair, Alyssa Case - New Member
An enthusiastic welcome by the members of the Business and Professional Women of Englewood and Venice (BPWEV) honored new member Alyssa Case after she was inducted by Esther Bird, 2nd BPWEV Vice President.
Ms. Case is the Operations Manager for the Mason Knows Mortgages Team and is their primary Mortgage Loan Originator serving southwest Florida. She is a resident of Venice and regularly conducts mortgage program guideline training for Realtors from Tampa to Ft. Myers.
Recently Alyssa was named one of 70 "Elite Women in Mortgage" in the nation by Mortgage Professional America Magazine. She was living in Greenville, Ohio at the time. The Mason Knows Mortgages Team helps people in Ohio, Indiana, Kentucky and Florida achieve their unique dreams of home ownership.

BPWEV meets every third Tuesday of each month at the West Coast Seafood Restaurant in Venice. For information: www.bpwev.org
The mission of BPWEV its: to achieve equity for all women through Advocacy, Education and Information.
Kids Needs School Supplies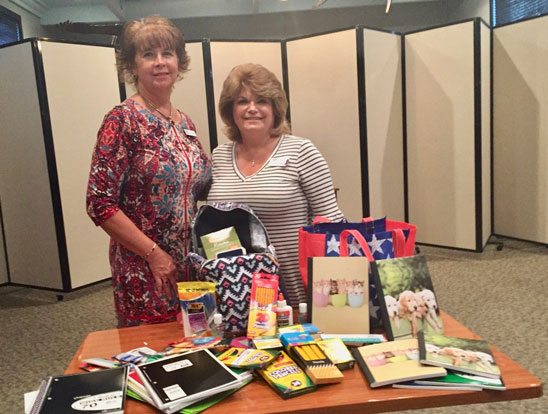 l to r: Irene Slattery and Morina Chmielak, Members
Englewood and Venice BPWEV, Irene Slattery collected 'back to school' items for Kids' Needs - Greater Englewood, Inc. www.Kidsneedsenglewood.org. Many businesses in the greater Englewood area have drop boxes for donation, including Centennial Bank, 1450 Placida Road, where Irene is the branch manager.
At the BPWEV August meeting all donations will be distributed to schools in the Venice area. Morina Chmielak, Fundraising/Philanthropy Chair, initiated this 'back to school' donation event for BPWEV.