Joyce Ward - Speaker on May 16, 2017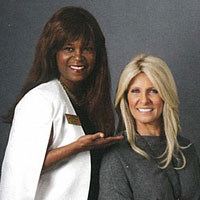 The Caring Hair Foundation, Inc., founded by Joyce Ward, a sixth-generation Master Hair Braider and wig designer. Joyce has one goal in mind: to help adults and children affected by hair loss from chemotherapy, medical conditions and other illnesses.
With the Foundation's opening on January 4, 2017, and location in the private and peaceful setting in the Towles Court Art District of beautiful Sarasota, FL; its mission is to help make adults and children feel empowered and "whole" again, by offering free haircuts and wig programs (before and after treatment) to those in need.
The Caring Hair Foundation's vision is clear: "Helping our community matters". By partnering with other individuals and organizations, the Foundation will be able to further its mission of helping adults and children, and thus, continuing to give back to our community.
We are looking for community members who would like to volunteer and spread the word about this organization.
2017 - 2018 BPWEV Installation of Officers
A beautiful ceremony, conducted by Irene Slattery, installed the new Board of the Business and Professional Women of Englewood and Venice (BPWEV) at the April 18, 2017 dinner meeting.
Carol Kouba assisted as the new Board was presented to the membership and guests. Judy Braham will serve again as President, Joyce McCuffrey and Katie Malloy (not pictured) will continue as 1st Vice Presidents, Morina Chmielak is the new 2nd Vice President, Heather LaBeau (not pictured) will continue as Treasurer and Maryann Terry will serve as Secretary. The new Board is committed to promote the BPWEV Mission: To achieve equity for all women through Advocacy, Education and Information.
BPWEV meets every third Tuesday of each month at the Left Coast Seafood Restaurant in Venice.
Area women are invited to attend.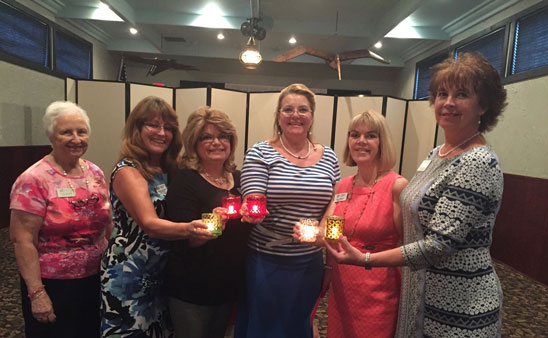 l to r: Carol Kouba, Maryann Terry, Morina Chmielak, Joyce McCuffrey, Judy Braham, Irene Slattery
Thank You Left Coast Seafood Co
The Business and Professional Women of Englewood and Venice (BPWEV) presented a framed copy of a recent newspaper article and photo to Mariel Arbuckle Terone. The article appeared in the Venice Gondolier and highlights the history of the Left Coast Seafood Restaurant in Venice. Ms. Mariel Arbuckle Terone and her father, Rob Arbuckle, co-own the Left Coast Seafood Restaurant. BPWEV has been meeting at the restaurant since the fall of 2016 for their monthly business and dinner meetings. The management of the Left Coast Seafood Restaurant has been very accommodating to the BPWEV members. Not only is the food excellent, but the presentation is mouthwatering and served by a very friendly waitstaff. Besides serving fantastic, fresh seafood, delicious vegetarian and meat dishes are also on the extensive menu.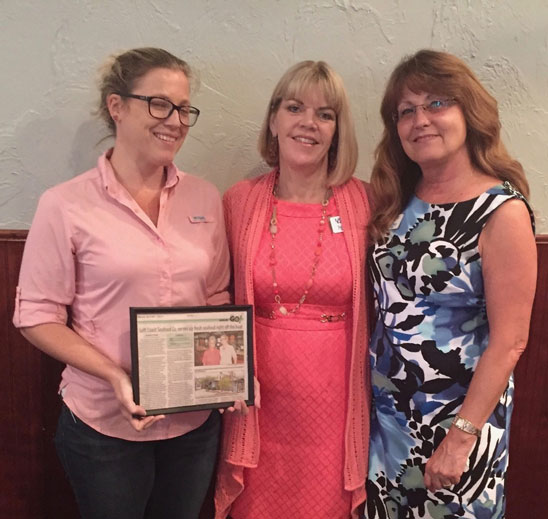 l to r: Mariel Arbuckle Terone - Co-Owener, Judith Braham - BPWEV President, Maryann Terry - Secretary
2017 BPW Adult Learner Scholarships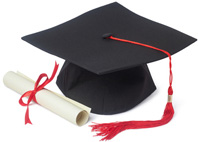 The Business and Professional Women of Englewood and Venice are accepting applications through April 30, 2017 for three $1000 adult learner scholarships for the 2017-2018 academic years.
The BPW Scholarships focus completely on the adult learner. You will note from this website that BPWEV is engaged in the national program "Joining Forces for Women Veterans and Military Spouses". One goal is to help these women in completing advanced education or training.
Please review the Scholarship Information, and follow the directions for submitting your application: