Claudia Daniels - Speaker on October 18, 2016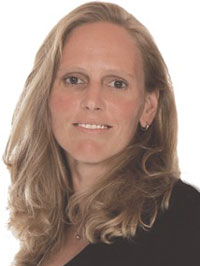 Claudia Daniels is originally from Mainz, Germany and for almost two decades has been enjoying life in Venice, Florida. In addition to her professional career as a Real Estate Agent with RE/MAX Platinum in Venice, she has a passion for anything creative -especially photography.
Her academic background encompasses an Associate of Science degree in Graphic Design, a Bachelor of Science in Business Administration, and a Master of Arts in Liberal Studies with a concentration in English.
Claudia appreciates the opportunity to assist those who are learning English as a Second Language and is enthusiastic about her grant writing and board membership role with Literacy Volunteers of South Sarasota County.
Wine Tasting and Auction on October 21
3 Scholarships Awarded
The Business and Professional Women of Englewood and Venice (BPWEV) awarded 3 Adult Learner Scholarships in the amount of $1,000.00 each to Elisabeth Capell, Angeline Koplau and Jolyn Miller.
Elizabeth Capell is attending State College of Florida (SCF) where she is pursuing an AA degree. She is a straight A student, a mother of 4 children. Her husband is a disabled Gulf War Veteran with various serious health problems and unable to work.
Angeline Koplau is also attending SCF and seeking an AA and AS degree in the field of Occupational Therapy. A member of Phi Theta Kappa, she has repeatedly earned her place on the dean's list. Angeline is a single mother with 4 young children. This is the second time that she has been awarded a BPWEV Adult Learner Scholarship.
Jolyn Miller is attending Keiser University. She is working toward her AS to become a Physical Therapist Assistant. Her grades are also excellent. She is a single mother with one child. She, too, is the recipient of the BPWEV Adult Learner Scholarship for a second time.
The funds for the BPWEV Adult Learner Scholarships were earned last October at the club's major fundraiser at the Venice Art Center called: "7th Annual Passport To Your Future" - a Wine Tasting and Auction event with life music, superb wines, and appetizers donated by Venice restaurants. All BPWEV members contributed to make this event a great success.
May 17, 2016 Meeting Review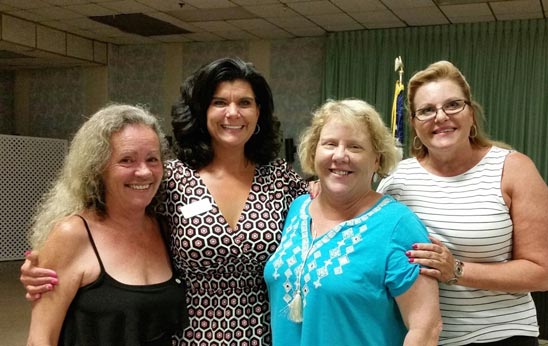 left to right: Vanessa Smith - BPWEV President, Christy Crump - State President - BPWFL, Katie Malloy and Joyce McCaffrey sharing the office of 1st Vice President.
Christy Crump, President of the Florida Business and Professional Women (BPWFL) was the dynamic guest speaker at the May 17, 2016 BPW Venice/Englewood meeting held at the Englewood Elks Club.
Ms. Crump presented an interesting program based on the book by Mary Miscisin "Showing Our True Colors". Each member at the meeting was handed a reference list to determine her color character, a fun and easy guide for identifying personality styles. This will provide insights as to why people behave as they do and will be helpful in resolving conflicts, opening lines of communication and enhancing personal effectiveness. The end result is a celebration of the uniqueness in yourself and others.
Letter from Brittany Morgan - Scholarship Recipient
I am writing to you as a graduate of the Florida State University, something that would not be possible without the contributions of this organization. I graduated from FSU on May 1, 2015, with a Bachelor of Science in Computational Science and minor in Mathematics with Summa Cum Laude distinction. My final GPA was a 3.9 and I was lucky enough to graduate debt free. I was incredibly honored to walk across the stage in the Tallahassee Civic Center to receive my diploma. I reminisced back to senior year of high school when I applied to scholarship after scholarship and wrote essay after essay, all to make my dream of attending college come true. Now, as an alumna of Florida State, I will wish to thank you for your part in my achievement.
In high school, I could have never predicted the future life that I am currently living now. I thank you for trusting in me four years ago and giving me the chance to attend a University that I otherwise had no personal funds to afford. With the financial support of my company, I plan to apply for a Master's program in Data Science or Applied Math in the fall, further enhancing my education. I am truly grateful to be where I am today.
Sincerely,
Brittany Morgan
2016 BPW Adult Learner Scholarships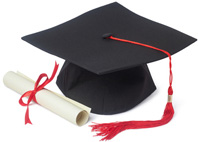 The Business and Professional Women of Englewood and Venice are accepting applications through April 30, 2016 for three $1000 adult learner scholarships for the 2016-2017 academic years.
The BPW Scholarships focus completely on the adult learner. You will note from this website that BPWEV is engaged in the national program "Joining Forces for Women Veterans and Military Spouses". One goal is to help these women in completing advanced education or training.
Please review the Scholarship Information, and follow the directions for submitting your application: