Karin Drury, Scholarship Chair
Each year the Business & Professional Women Englewood/Venice (BPWEV) award 3 Adult Learner Scholarships in the amount of $1,000.00 each to d eserving female adult learners in Sarasota and Charlotte county. This year's recipients are: Elisabeth Capell, Angeline Koplau and Jolyn Miller.
Elisabeth is married and has 4 children. Her husband is a disabled veteran. She is working on her AA degree, attending SCF. Angeline Koplau also has 4 children. She just finished her AA and AS degree and will continue to study at SCF specializing in the field of Occupational Therapy. Jolyn Miller has 1 child. She finished her AS Physical Assistant degree from Keiser University in August.
All 3 winners had excellent grades and it is amazing how they juggled the responsibilities of motherhood, family chauffeur, cook, etc. and still maintained college grades way above the average. Congratulations Elisabeth, Angeline and Jolyn!
Information for the 2017 BPWEV scholarships will be available on the website www.bpwev.org as of January 15, 2017.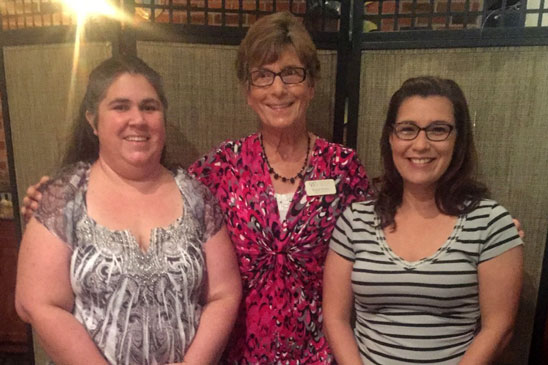 Elisabeth Capell, Karin Drury-Scholarship Chair and Angeline Koplau

Jolyn Miller, Ann Wacholder, Karin Drury, Carol Kouba and Angeine Koplau