Karin M. Drury
The Holiday Season is approaching rapidly, stores are more crowded and the traffic is increasing. So is the urgency to help the single mothers in our community that are struggling to provide basic needs for their families.
As in the past BPWEV will help several families with clothing and food donations for Christmas. The Salvation Army in Venice will provide us again with the first names of 3 single mothers and the wish list for their children. After shopping for the items needed the funds left will be donated to Englewood Helping Hand, Inc. to buy food for their pantry.
For many years our Women Helping Women Project has been BPWEV's special endeavor for the Holiday Season to help disadvantaged single mothers in our community. Please help us to continue this tradition. At the November and December
Meeting I will pass an envelope around for your donations. If you wish to pay by check, please make it out to Karin Drury but add in the memofield Donation to BPWEV/WHW project.
Your help will brighten the Holidays for many families!
Thank you for your generosity!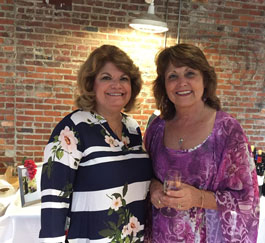 Morina Chmielak and MaryAnn Terry Co-chairs Wine Tasting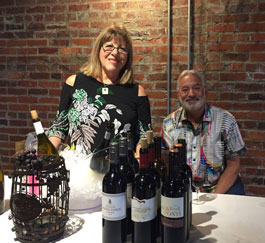 Kudos also to Kathy Castellano and her husband Blaise helping at the wine bar!
The BPWEV wine tasting fundraiser was held on Friday, October 26 at the Venice Train Depo.
Special thank you to our sponsors:

Castle Air
Eyes on You
Barbara King
Peach's Restaurant
Professional Travel Services
Quick Signs
Venice Gondolier
Ann Wacholder
Food platters were donated by:

Aston Gardens
Café Venice and many BPWEV members.
In kind sponsors included Maryann Terry and Morina Chmielak.
Due to the generosity of those who attended, BPW raised enough funds to award scholarships in 2019.
Morina Chmielak and Maryann Terry
Please join us Thursday, November 8th at Kumo Japanese Steak House 1657 US Highway 41 Bypass 41 in Venice for dinner 6 pm. BPWEV will receive 15% with average meal price of $20. Enjoy a great meal with great company to benefit BPWEV. Contact This email address is being protected from spambots. You need JavaScript enabled to view it. for more information.
Reservation deadline is November 4th at 5 pm.

l to r: Esther Bird - Scholarship Committee, Nathalie Barr - Scholarship Recipient, Carol Kouba - Scholarship Committee, Karin Drury - Scholarship Chair
The Business and Professional Women of Englewood and Venice (BPWEV) awarded a third $1,000.00 scholarship to Nathalie Ann Barr. This is the second time Ms. Barr has received this scholarship. In 2 more semesters she will be receiving her BSN degree from SCF where she maintained an outstanding GPA, while working as court reporter and technician at SMH.
She is a single mother with 2 children at home. Her daughter is also pursuing a BSN degree, her son is a senior in HS. Congratulations, Nathalie!

The mission of BPWEV is: To achieve equity for all women through Advocacy, Education and Information.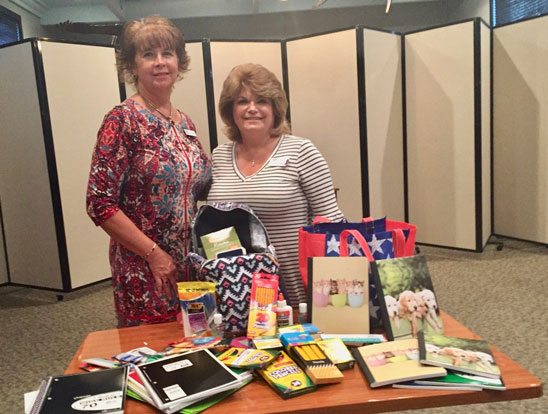 l to r: Irene Slattery and Morina Chmielak, Members
Englewood and Venice BPWEV, Irene Slattery collected 'back to school' items for Kids' Needs - Greater Englewood, Inc. www.Kidsneedsenglewood.org. Many businesses in the greater Englewood area have drop boxes for donation, including Centennial Bank, 1450 Placida Road, where Irene is the branch manager.
At the BPWEV August meeting all donations will be distributed to schools in the Venice area. Morina Chmielak, Fundraising/Philanthropy Chair, initiated this 'back to school' donation event for BPWEV.