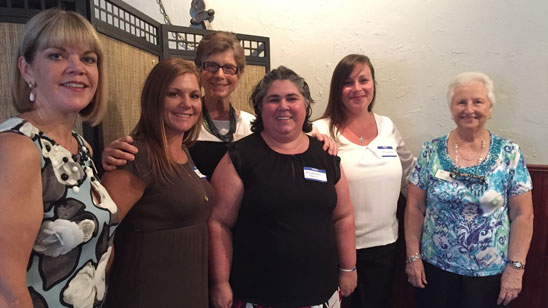 l to r: Judy Braham - president, Nathalie Barr, Karin Drury - Scholarship Chair, Elizabeth Wright, Frances McHale, Carol Kouba - Scholarship Committee
The Business and Professional Women of Englewood and Venice (BPWEV) awarded 3 Adult Learner Scholarships in the amount of $1,000.00 each to 3 very deserving women at their monthly dinner meeting in Venice on 6/20/2017. The winners are: Nathalie Barr - finishing her BSN degree at SCF Bradenton, Frances McHale - studying to be an RN at SCF - Venice, Elizabeth Wright - finishing her pre-med requirements at SCF - Venice. This is the second time that Ms. Wright received the scholarship. All 3 women juggle raising children on their own, working full or part-time and are maintaining excellent GPA scores! Congratulations, well done.
Information for the 2018 Adult Learner Scholarships will be available on this website after Jan. 15, 2018.
BPWEV's Mission is "To achieve Equity for all women through Advocacy, Education and Information.