Thank you Dana!
Karin Drury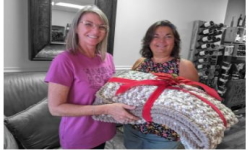 The Business and Professional Women of Englewood and Venice (BPWEV) who held their annual Wine Tasting Scholarship fund raiser at Rumours, the new wine bar
at Lemon Bay Shopping Center, presented a thank you gift to Dana Kuhn, owner of the establishment, a beautiful crochet blanket!
The blanket was crocheted by BPWEV member Madeline Salerno. Madeline had also crocheted a blanket, just like the one in the photo, for the fundraiser where chance tickets were sold.
Dana Kuhn had set her heart on winning that blanket but wasn't the lucky one that evening. She now is the lucky owner of another crochet blanket. BPWEV is very grateful to the owners, especially Dana who spent a lot of her time and efforts to make the Wine Tasting a success.