Morina Chmielak, Membership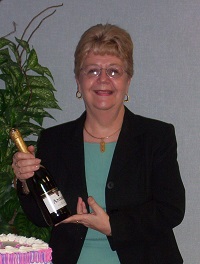 Esther is originally from Central New York and moved to Florida with her husband Bill in 1995. The cold, snowy and dreary winters motivated the move and they purchased their Venice home a year later after they fell in love with the community. Esther and Bill will celebrate their 25th wedding anniversary next summer.
Before moving to Florida, Esther was the sales manager for a library supply company. She worked in the trust and investment division of Bank of America for 14 years. After leaving that position, she was the event and marketing coordinator for the United Way of South Sarasota County. She is currently employed at the Venice Friendship Center . She started as a volunteer and was hired as soon as the funding was obtained. Esther says, "I love working at the Friendship Center. It's a fun place for seniors (age 50+) to go to have fun and meet others in their age group."
Esther has been a volunteer with Literacy Volunteers of South Sarasota County for 15 years. She serves on the board of directors, is coordinator for the literacy speakers bureau, and also provides a free two day class for new volunteer tutors about five times a year. She has been doing this training for the past six years.
The mission of BPW speaks to Esther's heart. She is an avid supporter of women and whole-heartedly believes in Women Helping Women.