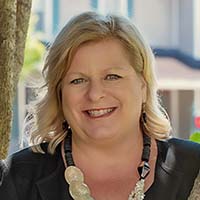 Ashley was born and raised in the South she was born in Georgia and was raised in West Virginia and South Carolina. She has a BA in Political Science from College of Charleston. Ashley started her career in manufacturing working for Westinghouse Electric in the large substation transformer division. She moved to Florida in 1998, when Ohio Transformer in Palmetto recruited her to be their Planning Manager.
Ashley started volunteering with WRC in late 2000 when she started teaching computer classes in the evening. In late 2002, Ohio Transformer sold and in the process Ashley lost her job, (she was then the Production Manager). She made the decision to apply for a job opening at WRC and was hired as the Finance/Development Manager. She has been with WRC ever since, becoming the Executive Director in April of 2003.
Ashley is an advocate for women; an innovative thought leader with a record of developing collaborative relationships with complimentary non-profit organizations, and educational, municipal, and private sector institutions; an experienced and respected motivator and team leader. Ashley has been with Women's Resource Center for 16 years and is committed to creating a region where women and their families can thrive.

Ashley participates in other opportunities for leadership development and service including Leadership Florida (Cornerstone Class XXXI, Regional Council, and Board of Directors, Program Chair), Leadership Manatee, board member for Sarasota Women's Alliance, board member for Ringling College Library Association, Past Chair of RCLA TOWN HALL and former board member for Manatee County League of Women Voters.