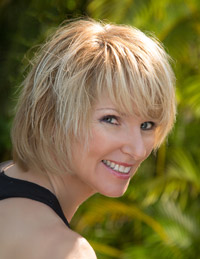 After spending over 10 years as a Federal and State Prosecutor, Beth "Annie" Stockdale changed her focus to health and wellness education. Her mantra is, "It's hard to have a clear thought with a toxic body." She created Your Total Body LLC in 2012 to focus on customized personal training; however, the company quickly began transforming into a total wellness community. We all are getting older, but the rate at which we "Age" is up to us!
Visit her "Your Total Body Wellness Center" in Venice to experience respiratory relief in her Salt Room, reduce inflammation and pain using her Infrared Sauna or Joovv Light system, or release unwanted body fat using her iLipo Body Fat reduction system. Increase circulation and balance using Whole Body Vibration.
Annie is currently thriving as a nationally-recognized Brain Health Coach and Consultant with the Amen Clinics. She is a Speaker and Writer on important aging and cognitive health topics. You can see her out in the community educating on conditions such as Stress, ADD, Anxiety, Depression, Alzheimer's, Parkinson's or Dementia. She customizes cognitive protocols addressing these conditions, and empowers you to optimize your natural hormones and neurotransmitters to achieve total health for Your Total Body. The Wellness Center is located at 800 East Venice Ave., Ste. C, Venice, FL 34285. And you can reach Annie by calling/texting to (941) 468-7091, or at www.yourtotalbody.co.
---
BPWEV meets every third Tuesday of each month at the Plantation Golf and Country Club. The public is invited to all meetings. Dinner is $23.00 and reservations are necessary. For more information go to: www.bpwev.org
The mission of BPWEV is: To achieve equity for all women through Advocacy, Education and Information. BPW celebrated its 100th birthday in 2019. The organization strongly believes in "Women Helping Women".