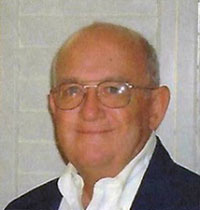 Clarke is a retired information technology program manager, providing contract support to federal government agencies initially in Colorado and, later, the National Capital Area (DC). He previously served as an officer in the Air Force.
Following retirement, Clarke and his wife relocated permanently in 2006 to Venice to enjoy the benefits of the Florida Gulf Coast lifestyle (and warmer climate). They soon became actively involved in the Venice Newcomers Club, with Clarke serving as club president in 2008-2009. Following his "Newcomers" experience, he became a volunteer with the Venice Museum and Archives. That activity led to his membership in the Venice Area Historical Society. Clarke has served on the Society Board, including roles as Vice President and President. He is currently the Chairman of the Society's Speakers Bureau, Chairman of the Plaque Committee, and is now serving a second term as President.
Clarke has a Bachelor's degree in History and a Masters in Systems Management, as well as numerous technical and professional development credentials acquired during his professional life. The Pressly's have three children, with one each located in Florida, South Carolina, and Colorado, providing travel opportunities to visit their grandchildren. He and his wife reside in The Lakes of Jacaranda.