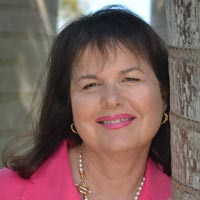 Tina is the author of 13 health care books. Some of these books include the Handbook of Home Health Standards, the Nurse Manager's Survival Guide and the Hospice and Palliative Care Handbook.
Tina received her BSN degree from Duke University and also has master's degrees in health administration and in nursing. Tina has been the editor of three peer-reviewed publications and is an Editor Emeritus for the journal Home HealthCare Now. Tina has practiced as visiting nurses in home care and hospice for many years and still makes home visits as a consultant.
Tina is the President of Marrelli and Associates, Inc. a consulting and publishing firm working in health care for 20 years. Tina is also the Chief Clinical Officer of e-Caregiving Solutions, a web-based education and support system for family and friend caregivers. Tina's newest contribution to health care and patient safety is her new book entitled, A Guide for Caregiving: What's Next? Planning for Safety, Quality, and Compassionate Care for Your Loved One and Yourself.
Books will be available for purchase for attendees for $20.00 with $5.00 donation back to BPWEV ($24.95 regular price).