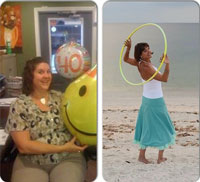 I started hula hooping about 8 years ago for fun to connect with my then pre-teen daughter Hannah. I soon found that this hula hoop was offering me much more than could have been expected. I worked through an addiction, financial hardship, stress, stress, stress, and...I soon found "ME" along with a 100# weight loss.
I spread the "Hoopiness" for about 3 years everywhere and anywhere I could knowing deep down inside that this was to be my new life path. I set my intentions and found out about Hoop Fitness and Hoop Dance. I was fortunate to have Abby Albaum from Hoola Monsters close to my home town and took her Hoola-Fit Certification class in April of 2013.
I'm now have 12+ offerings throughout Nokomis, Venice & Sarasota. In addition I now am so blessed to lead Women's empowerment retreats, Hula Hooping Workshops, & Speaking engagements. I continue to be inspired each and everyday by and through this "Hula Hoop."

The weight loss was really just a side effect of the real work that was happening on the inside and have never felt better in my Mind, Body & Spirit... Come see what all the "Hoopiness" is about.