You Are Invited!
BPW Englewood/Venice
BPW is not like any other organization.
This organization was founded in 1919 and is unique in that it has a long history of advocating for women and is still passionately and effectively engaged in assuring equal rights, equal pay and equal opportunities in the workforce. Every working woman has benefited from the efforts of this organization in Education Foundation, Scholarships, Public Policy, Equal Pay and Lobbying for Women's Rights.
We invite you to attend one of our meetings, learn more and join us!
Our Officers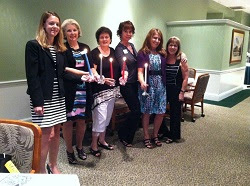 Written by Marie Rust
As our local  Public Policy Chair,  and as BPW Florida Public Policy Chair with a National Focus, I have been working with Andrea Johnson White, BPW  Florida State-focused Policy Chair.  Together and with the support of Susan Banks, BPW Florida President, we have initiated a "Women are Watching Postcard Campaign."   I encourage you to contact our Congressman, Vern Buchanan and our two Senators, Mark Rubio and Bill Nelson to voice your support of women's rights in this year's very important legislative agenda.  Please read this Call to Action, and please Act.
BPW/FL Public Policy Legislative Call For Action

Because of the political climate and the economy, your BPW/FL Public Policy Chairs have developed a "Women are Watching Postcard Campaign".  We are asking that you join the campaign by contacting your Congressional representatives TODAY to stand up for women's rights.  Tell them WOMEN ARE WATCHING.  We need you to contact your legislators now and as a follow up, mail the postcards we printed (please email President Banks - This e-mail address is being protected from spambots. You need JavaScript enabled to view it - with the number of postcards you would like and the mailing instructions).

BPW/FL is an issues based organization.  For our newer members attached is a copy of our Legislative Platform adopted by our members at our June 2010 State Conference.  We must not lose sight of our fundamental rights.  Now it is the time to build the future for women, not chip away at it.

In Washington, the House of Representatives is poised to pass the FULL YEAR CONTINUING APPROPRIATIONS ACT 2011 (H.R.1); therefore,  we must contact our Senators  that the $100 billion in funding cuts would fall unfairly on the backs of women, students and working families by cutting or terminating funding for several important programs.  The proposed cuts would end:   programs that help children succeed in school, help workers pursue job training, end funding for community health programs such as Title X which provides health care for low income women and families and would make draconian cuts in programs that help protect women against sex discrimination and pay discrimination.  It is time to send the message that "YOU promised to create jobs and strengthen the economy...do not support legislation that undermines these goals and WE women are holding you to that election promise".

Finally, we must tell congress to focus on jobs, not divisive social issues.   HR 3, for example, would punish private employers who provide health care for their workers if their plans cover abortion services.   Under this bill, abortion services would cover only those women who had been "forcibly raped "and only minors who have been victims of incest.  Urge your representatives to vote NO on  H.R.3.

Take a stand today and write your representatives.  The message is clear:  You promised jobs and a stronger economy.

Do not cut $100 billion from FY11 appropriations that would have a lasting, detrimental impact on Americans, particularly working families, women and children.  Stop wasting time on divisive social issues impacting women's health and reproductive rights. Pass the Paycheck Fairness Act to provide pay equity for women.

At long last, let us have an Equal Rights Amendment passed -let us have three more states ratify the amendment and challenge the deadline.

Marie Rust, BPW/FL Public Policy Chair, National Focus
Andrea Johnson White, BPW/FL Public Policy Chari, State Focus

CLICK HERE to download a copy of the BPW/FL 2010-2011 Legislative Platform.
Contact Information for Florida Legislators:

Senator Bill Nelson    
716 HART SENATE OFFICE BUILDING WASHINGTON DC 20510
(202) 224-5274

Senator Marco Rubio
B40A DIRKSEN SENATE OFFICE BUILDING WASHINGTON DC 20510
(202) 224-3041

Congressman Vern Buchanan
111 South Orange Avenue
Floor 2R, Suite 202W
Sarasota, FL 34236
(941) 951-6643